FREE AlertMe!SM Product Alerts Let You Know When You Can Purchase Products You Want
---
Receive text and email messages when products come back in stock
Get the first opportunity to purchase popular products that sell out quickly. Look for the blue "AlertMe!SM" button next to out-of-stock items while you're shopping, and be among the first to learn when they're back in stock!
Alerts are Quick And Easy To Set Up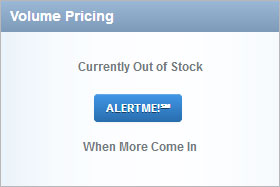 To set up an AlertMe!SM Product Alert, you must log on to your account. This free service is only available to registered APMEX users.
Don't have an account yet? Create your FREE APMEX account today!
When you're shopping, click the "AlertMe!SM" button next to the product you want.
Then follow these steps:
Confirm your email address, or add an additional email address.
Enter your mobile details if you'd like to receive SMS text messages as well.
Enter the quantity of the item you are interested in purchasing.
Click Save.
Watch for an email and text message as soon as the product is available.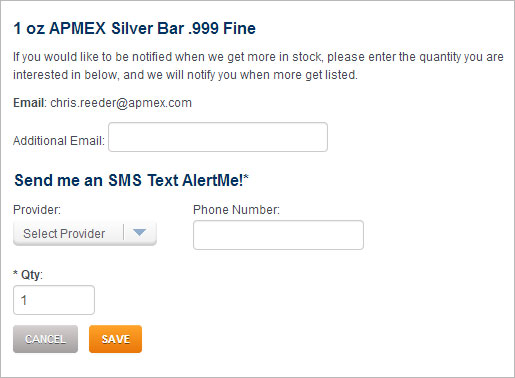 Set AlertMe!SM Product Alerts for as many different products as you like. Manage and delete your alerts from the AlertMe!SM tab on your "My Account" page.
When you receive an alert, you may want to act quickly. There may be other customers who are also receiving the same alert, and popular products could sell out again.
The free APMEX AlertMe!SM notification system does not lock in the price of any product or reserve a product for you. In addition, you are not required to make the purchase when the product becomes available.
Click here to view all your Product Alerts!
---
APMEX AlertMe!SM product alerts are a free service. This notification in no way reserves the product or quantity requested by you. Furthermore, it in no way locks you in to a specific price for the items you are interested in. It is simply a free no obligation notification service available to you from APMEX. Alerts are sent out based on first-in, first-out basis. Notifications will be sent to more than one person at a time.
This service is provided as an accommodation to our customers for informational purposes. APMEX makes no representation or warranty with respect to the accuracy or the completeness of the information provided through this service and this service is not a substitute for the customer's own monitoring of the relevant markets. The customer acknowledges that the customer is solely responsible for such monitoring and for all investment and other decisions based thereon.
IT IS EXPRESSLY UNDERSTOOD THAT, LIKE ALL SERVICES, THIS SERVICE IS SUBJECT TO DELAYS AND TO FAILURES THAT ARE BEYOND THE CONTROL OF APMEX. THERE CAN BE NO ASSURANCE THAT THE SERVICE WILL BE IN CONTINUOUS OPERATION.
APMEX HAS NO LIABILITY FOR ANY MARKET GAIN OR LOSS, OR ANY OTHER LIABILITY, THAT THE CUSTOMER MAY INCUR, AS A RESULT OF, OR IN CONNECTION WITH, THE SERVICE (ALL OF WHICH ARE THE SOLE RESPONSIBILITY OF THE CUSTOMER).
* SMS text message rates may apply depending on your specified carrier plan.
* APMEX AlertMeSM! text messages are only for U.S. Customers