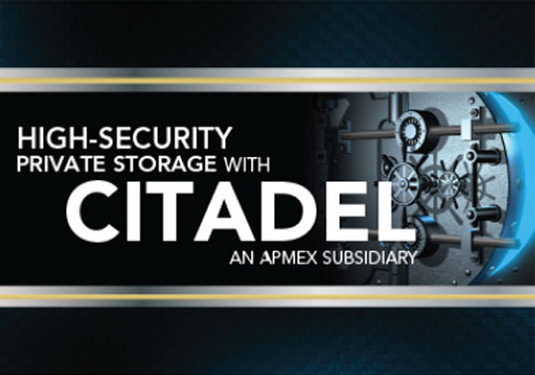 High Security, Private Storage of your Precious Metals
Your Precious Metals assets deserve storage from a trusted source providing complete documentation, ease of access and delivery when you need it. When you buy Precious Metals products from APMEX, you can choose to have them delivered directly to a high-security, private storage facility, managed by one of the world's leading security companies Brinks, through Citadel Global Depository Services.
Introducing Citadel Global Depository Services, Inc., a wholly-owned subsidiary of APMEX. Citadel is a Precious Metals depository services company that provides maximum security for your Precious Metals.
Enjoy Free Shipping
When you choose to store your APMEX purchases through Citadel there is never a shipping charge to ship your products to the secure storage facility.
For more information visit, www.cgdsi.com or call a Citadel Customer Service Representative at 888.518.7596 Monday through Friday, 8 am to 6 pm (ET). You can also read or download this informative brochure:
Prices are in USD
Precious Metal Prices
4/24/2014 9:56:41 PM EST
Metal
Bid
Ask
Change
Gold
$1,291.90
$1,293.90

$1.30

Silver
$19.51
$19.61

($0.14)

Platinum
$1,404.20
$1,414.20

$4.60

Palladium
$796.60
$801.60

($1.60)
4/24/2014 9:56:41 PM EST
Click here for Historical Charts*All Charts are in USD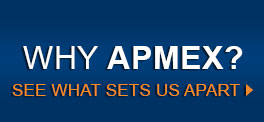 ---
Sell To Us

Selling your bullion or collectible coins is very easy and safe with APMEX! We are one of the largest gold & silver dealers in the country. Read More
---

---
APMEX Reviews
Just a short note, I've been dealing with you for several years your products are excellent customer service top shelf, packaging delivery top notch, and a easy fun website to look at.

Kevin | January, 2014 View All
---
As seen on...