Discover how FREE APMEX Market Alerts can monitor Precious Metal prices for you!
---
Receive an email or text alert as soon as current prices reach your preset targets
The market moves quickly, and it can be frustrating to miss an opportunity. Let APMEX watch precious metals prices for you. Tell us your Gold or Silver target price, and we'll send you an email — and a text message if you want — as soon as the market reaches your price. With APMEX Market Alerts at your side 24/7, you can buy or sell when the price is right for you!
Setting your APMEX Market Alerts is easy.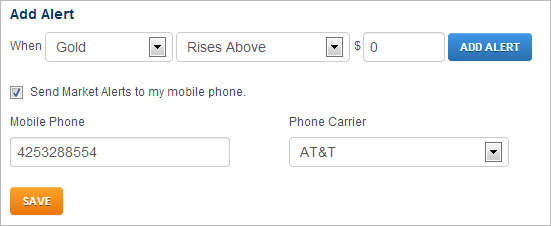 From your "My Account" page, click the tab titled "Market Alerts" and follow the instructions on the screen.
Set as many alerts as you want for one or more metals.
To receive text messages as well as email alerts, check the "SMS text Market Alerts" box and provide us with your mobile information.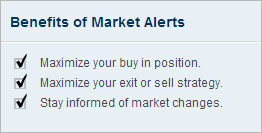 To get started, simply log on to your account. Already logged in? Click on your name on the top right of this screen. Don't have an account yet? Create your FREE APMEX account today!
---
APMEX spot prices are live and updated every 60 seconds to coincide with the futures markets. This notification in no way constitutes a locked spot price for either a buying or selling transaction or a recommendation to engage or not to engage in any particular investment or other transaction. Spot prices for a transaction are determined at the time of transaction either online or through direct contact with our trading department.
This service is provided as an accommodation to our customers for informational purposes. APMEX makes no representation or warranty with respect to the accuracy or the completeness of the information provided through this service and this service is not a substitute for the customer's own monitoring of the relevant markets. The customer acknowledges that the customer is solely responsible for such monitoring and for all investment and other decisions based thereon.
IT IS EXPRESSLY UNDERSTOOD THAT, LIKE ALL SERVICES, THIS SERVICE IS SUBJECT TO DELAYS AND TO FAILURES THAT ARE BEYOND THE CONTROL OF APMEX. THERE CAN BE NO ASSURANCE THAT THE SERVICE WILL BE IN CONTINUOUS OPERATION.
APMEX HAS NO LIABILITY FOR ANY MARKET GAIN OR LOSS, OR ANY OTHER LIABILITY, THAT THE CUSTOMER MAY INCUR, AS A RESULT OF, OR IN CONNECTION WITH, THE SERVICE (ALL OF WHICH ARE THE SOLE RESPONSIBILITY OF THE CUSTOMER).
* SMS text message rates may apply depending on your specified carrier plan.
* Market Alerts are in USD.