The MintDirect® Difference
MintDirect® is a patent pending process created for you by the American Precious Metals Exchange, Inc. (APMEX) that certifies the precious metals received by APMEX are forwarded to you in the exact container as received by APMEX from a mint and sealed in a tamper evident wrapper.
How MintDirect® Products Benefit You
With MintDirect®, you have assurance that the precious metals you purchase are exactly as they left the Mint, untouched and unsorted by any person after leaving the Mint, in the same packaging as provided by the Mint and sealed in a tamper evident wrapper by APMEX so that you have evidence of the fresh and pristine nature of the precious metals inside.
How the Patent Pending Process of MintDirect® Works
Here's how the patent pending process of MintDirect® benefits you:

Step 1
APMEX receives deliveries of precious metals from many of the Mints of the world via secured delivery services.

Step 2
The precious metals are unloaded and placed in the APMEX vaults, which are located in the former Federal Reserve Bank building in Oklahoma City, Oklahoma now occupied by APMEX.

Step 3
Vault personnel carefully inspect the precious metals for certification.

Step 4
MintDirect® labels are prepared with a unique serial number for placement on each container of precious metals as received by APMEX from the Mint.

Step 5
Without opening the containers received from the Mint, the MintDirect® precious metals are then sealed in a tamper evident shrink wrap that identifies the precious metals inside the Mint container and carries the APMEX certification that you are receiving the original, unopened Mint container.

Step 6
The completed MintDirect® product evidences that you are receiving the original, unopened Mint container with precious metals that have not be searched, sorted or even seen or touched by anyone other than Mint personnel so that you have fresh, pristine precious metals exactly as they left the Mint.

Start Shopping for MintDirect®
Now that you know the value of MintDirect® start shopping now!
Have Questions?
Please call 800.375.9006 or email us at info@apmex.com
MintDirect® Disclaimer
MintDirect® is not a product of, or operated under any agreement or license with, any Mint. MintDirect® is an aftermarket patent pending process of APMEX to provide you the assurance from APMEX of precious metals just as they left the Mint and were received by APMEX. APMEX has not requested nor is there any endorsement from any Mint for MintDirect®; rather, APMEX has created this product and the related service for you. The certification by APMEX in MintDirect® is limited to the express certification made therein and is intended solely for the original buyer of MintDirect® precious metals from APMEX. The certification is not transferable to any other person by the original buyer. APMEX disclaims all representations and warranties, express or implied, other than the express certifications and disclaims all representations and warranties, express or implied, to any person other than the original buyer. MintDirect® is a trademark of APMEX and the process of MintDirect® is patent pending with the United States Patent and Trademark Office.
Prices are in USD
Precious Metal Prices
4/24/2014 2:48:18 AM EST
Metal
Bid
Ask
Change
Gold
$1,285.50
$1,287.50

$0.90

Silver
$19.35
$19.45

($0.04)

Platinum
$1,393.00
$1,403.00

($0.90)

Palladium
$781.00
$786.00

($1.00)
4/24/2014 2:48:18 AM EST
Click here for Historical Charts*All Charts are in USD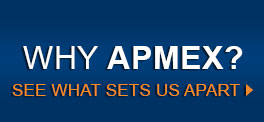 ---
Sell To Us

Selling your bullion or collectible coins is very easy and safe with APMEX! We are one of the largest gold & silver dealers in the country. Read More
---

---
APMEX Reviews
Just a short note, I've been dealing with you for several years your products are excellent customer service top shelf, packaging delivery top notch, and a easy fun website to look at.

Kevin | January, 2014 View All
---
As seen on...