APMEX Customer Testimonials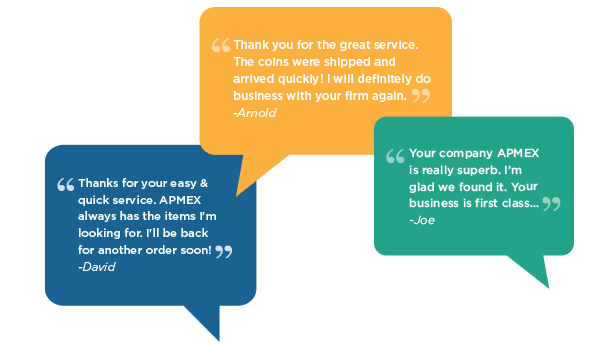 You really outdid yourself this time. The selection you sent as a replacement was outstanding and the speed with which you sent it back was awesome. Can't tell you how very much I appreciate your attention to service and the speed with whicfh you processed my return. I have rarely had to use your return policy but when I need to I love the way you handle it. Thanks so much.
Wonderful product wonderful fast delivery.
I am very pleased at how fast I received my order. I am also pleased at the quality and service that I received. I am a new customer to APMEX but rest assure I will recommend APMEX to anyone looking to invest and or collect precious metals…Thanks APMEX
I am very satisfied with my buying experience from APMEX and will use this source again.
Thank you all very much on how you do your jobs. From the person that took my order to the people that package and shipped all of you work as a very good team. Thank you all for your outstanding work.
I'm very satisfied with my order. It looks very good and the quality is superb. I wish I started investing with APMEX long time ago.
Look forward to a continued good relationship I see no reason to go anywhere else for the service you provide.
I was very pleased with my purchase and my buying experience. If you have what I'm looking for and the price is right you can expect more of my business.
For the last 16 uears I have been giving my grandchildren a silver dollar for Christmas. I now have 9 of them and your service has by far been the most satisfying from any other supplier. This is the third year in a row I have used APMEX.
Looking forward to the next investment.
Yes. Perfect items. A company I can trust, seriously great.
I really like how you package items.
I enjoyed buying from you all! Great, fast service.
APMEX is very convenient way to purchase precious metals. The pricing on the metals is very fair. I lookforward to purchasing from APMEX in the future.
My wife loved her silver for the 25th anniversary gift. Thanks for making it all happen like it was supposed to.
I plan on purchasing again from you. Thank you.
Your packaging and shipping department is to be highly commended for their excellent work. I am impressed by the fast turn around on in stock items. Good job everyone.
Was packed super nice. I was very happy and I will order from APMEX again soon, thans so much.
I was very pleased with the overall experience buying APMEX. This was my first purchase.
Best service I have used. Low shipping cost a big plus. Also, you don't annoy me with phone calls- thats a huge plus.
Very gratifying experience! Keep up the good work!