APMEX Customer Testimonials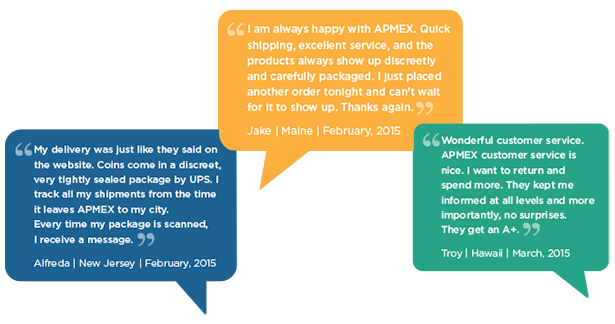 I recently purchased a few items for my IRA, my IRA rep was very professional and made the transaction painless. She is very much an asset to your company. Great employees make great companies.
Thank you. Thank you. Thank you so much. Everything is great thanks to your efforts…...
Thank you for excellent service. I will use APMEX for future sales and purchases…
Merry Christmas and Thank you for making doing business with you pleasureable!!
Thank you very much for your help, super efficient and prompt….
Top notch product and variety. You guys to me are the very best in the industry. Have more sales!
Just wanted to let you kow I have received my order and I'm 100% satisfied!
I just want to praise you on your packaging of the coins I recently bought…..I ordered other American Eagles Silver Dollars and they were not individually separated and wrapped like your company does them. I will definitely be a returning customer.
For three months, I've been looking to begin investing in basic precious metals as an inflation hedge. I've spent considerable time comparing the most visible online brokers, including other well-respected, long-established businesses. APMEX won.
Thank you for outstanding service during these past 3-4 years. You have made it possible for me to deliver product at low fees, in a timely manner and be a trusted source.
Yes, in my opinion this is the best company I have tried so far.
Little details of a Christmas box and adding padding impressed me for my first purchase from APMEX. Speedy processing and delivery before Thanksgiving was great. Will definitely look to APMEX for further purchases.
First time I ordered from APMEX and was very satisfied with the service.
My experience with APMEX was my first in purchasing precious metals and we will be doing this again soon. Thank you.
You made it easy for a first time buyer, second order processed even faster.
You really outdid yourself this time. The selection you sent as a replacement was outstanding and the speed with which you sent it back was awesome. Can't tell you how very much I appreciate your attention to service and the speed with whicfh you processed my return. I have rarely had to use your return policy but when I need to I love the way you handle it. Thanks so much.
Wonderful product wonderful fast delivery.
I am very pleased at how fast I received my order. I am also pleased at the quality and service that I received. I am a new customer to APMEX but rest assure I will recommend APMEX to anyone looking to invest and or collect precious metals…Thanks APMEX
I am very satisfied with my buying experience from APMEX and will use this source again.
Thank you all very much on how you do your jobs. From the person that took my order to the people that package and shipped all of you work as a very good team. Thank you all for your outstanding work.
I'm very satisfied with my order. It looks very good and the quality is superb. I wish I started investing with APMEX long time ago.