APMEX Customer Testimonials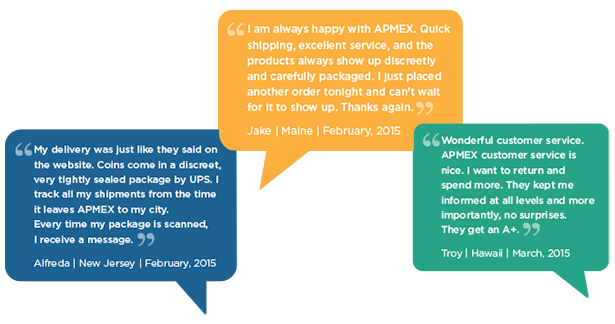 Excellent service and product. You guys rock! I have purchased four times from you and all the time I am extremely happy with the service!
I just wanted to thank you for your excellent service. My package arrived within the estimated time frame and was well packaged and I could tell it was packed with care. Even the extra space in the shipping box had ample cushioning so that the coins did not gyrate while en route. Everything was accounted for and in pristine condition.
I have been dealing with APMEX in the buying and selling of gold and silver coins for several years now with great satisfaction. Thanks for answering all questions with professional knowledge and shipping every order promptly and accurately. I plan on continuing to do business with your company in the future.
I am an avid 'serious' coin collector/investor and quality is of the utmost importance. I ordered a small platinum 1/10 oz. bullion-related coin, among other items, and sent this coin to NGC for grading never expecting a grade north of MS-68. When I received my group of coins back from the grading company, I was shocked to see that this coin was deemed an MS-70 (a perfect coin). This particular transaction with you seems to be the 'rule' rather than the 'exception' as this was not my first dealings with you and I can honestly say, it will not be my last. Keep up the excellent quality and service.
Got my shipment today ahead of schedule! They look awesome! i'm going to go roll around in them like Scrooge McDuck
After multiple orders, your company has yet to fail me! Thank you for your consistent and prompt service. This is the only place I would order from and recommend to others.
I just received my fifth order which I requested to be expedited. I would like to thank the management for the excellent quality and commendable services. Thanks again.
You continue to surpass your efforts in delivering products to the customer! I ordered a kilo bar and while I was out of state, it was delivered to my home before your email got to me! While I thought the post office slip was for another item on Saturday, it was actually the bar I ordered on Thursday! Just great to see a company that does not hold the items we buy, but goes out of their way to make sure the customer gets their items as promptly as possible. Outstanding!
My twelfth purchase arrived 10/16 and as always it came earlier than expected, very discreet and well packaged. The coins are beautiful and far exceeded my expectations. Your customer service is excellent. I am eagerly awaiting my next order to arrive. Thank you so very much.
I used this site for my first gold purchase. It was extremely easy to locate what I needed and everything came packaged just as described on the site. I also got my package the day after it shipped. i'm very happy with the entire experience. I will definitely use this company again for future purchases and have highly recommended it to all my friends and family.
I'd like you to know that I could not be more pleased with the service and products that I have recently purchased from you! There is more to service than just a less expensive commodity, although, APMEX has had the lowest prices that I have seen anywhere on the internet. Even when purchasing with a credit card and paying the extra percentage, you're still lower! The prompt expedited shipping is just 'icing on the cake.' I just wish I had started purchasing precious metals a long time ago, but I look forward to purchasing more from APMEX! Thank you very much!
I just wanted to say that APMEX is the best on the web for precious metals - hands down. I have bought precious metals from a number of dealers and none can compare to APMEX. Accurate orders, prompt secure delivery, and great customer service keeps me coming back every time. I love these guys and will only shop APMEX!
Just received my APMEX silver bullion bars today. This is my second order in 40 days from APMEX. I appreciate the care you take in packaging my orders...no jingle mail packages as with other companies. Also, your site is the best in ease of ordering and your FAQ's leave nothing unanswered. APMEX will continue to be my go-to company for all my precious metals. Great job!
I have placed a few orders with APMEX recently. I just wanted to say that it is a real pleasure to deal with you guys and I couldn't be happier with the speed and efficiency of your operation. I just wanted to say a big thank you!
Your professionalism is awesome, your staff very helpful, and shipping is fast. Being in the middle of the Pacific Ocean, I ordered on a Tuesday and received on a Friday. That is record time. Thank you all so very much and a big Aloha.
I've been with you guys for five years now. Best prices, best service, Oklahoma hospitality, and you buy when I need to sell. Hope to visit your store again soon. My sons now buy from you too. Thanks.
Your shipping department rocks! I am very happy with all of my orders from start to finish! You carry items the other sites don't. Please keep it up and I will continue to shop APMEX and recommend others do the same! Thank you!
I just wanted to say how impressed and pleased with your service I am. I ordered some Silver Eagles on Monday; they arrived today, Thursday.
My first Silver order with APMEX and i'm very pleased. Coins are as described and ingots are beautiful and clearly marked .999 Fine Silver. This is my place to buy silver. Thanks.
What a great company you run. i've purchased numerous orders over the last couple years - always with satisfactory results. Now i've even received a beautiful 1 oz. silver art round of your own manufacture, which I won in your Coin Giveaway. Many thanks again!
APMEX, You guys are tops! ALL of my orders have arrived within five days of ordering and in good shape! Your shipping department and prices are the best! I will be back many, many times! Thanks for the great service.