APMEX Customer Testimonials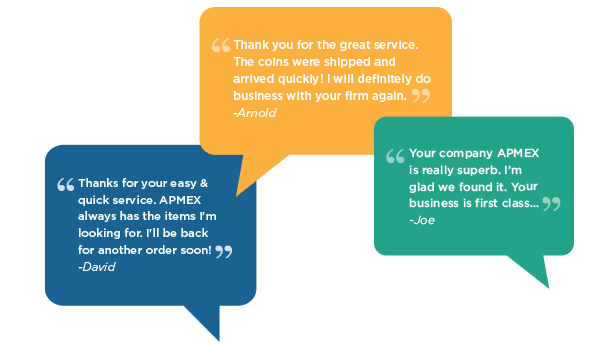 Just wanted to say that you guys are the best. Everything I have ordered was delivered in perfect condition and your turnaround time is awesome. Just wanted to give you guys some well earned compliments! Thank you!
I am a new silver investor and recently received my first order. Your company is great and my transaction was perfect. You're never quite sure when you send your hard earned money off to the unknown but I was very pleased and have already submitted my second order. Thank you for the great service!
Dear APMEX, this is the best service one could ask for. I placed a small order on 2/26, a Thursday, credit card cleared on Friday and today, Monday 3/02, my order was here. Thanks for all the little guys. Just hope that this year is a lot better so the orders can increase again. Thanks again for the great service and I will surely be back in the near future.
You folks do a great job of fulfilling orders! Timely, professional and efficient! I wish the U.S. Mint could be as good on its shipment of the Ultra High Relief St. Gaudens -- which have been delayed and delayed and delayed! Hope you get some of the original St. Gaudens in stock soon.
You guys are awesome. Thank you.
I just received my first order from you today. I wanted to take a moment and thank you for the great care in which my order was shipped. The professional packaging my fine silver investment was placed in was flawless! I am new to the world of fine metal and coin investments. I look forward to future orders and the chance to learn more on investing from you. This was a fun and exciting start for me. Thank you all.
Thank you for your prompt shipment. Great experience for a first-time buyer.
Just wanted to confirm this order was received today. Much thanks. Can't wait to buy more!
Thank you for the timely response. I guess I just needed a little reassurance on this matter. You guys have the best reputation of all the online dealers. Everyone I know who has purchased from you has nothing but positive things to say. I have referred your company to a few people and will continue to do so if given the opportunity. Thanks again and take care.
I recently received my order from you. You guys did a great job! I am very pleased with your service. I will continue to use your services and recommend you to anyone I 'CONVERT' to precious metals. Thanks again and keep up the good work.
Once again and for the 13th time (and not the last) you are are the best! One can buy gold/silver almost anywhere, but one cannot get the service you provide, except at APMEX. Looking forward to my next order. Thanks again
Got my coin yesterday in the mail. Really a nice looking coin. Thank you for your fast service. Looking forward to doing more business with you in the future. Thanks again.
Received my first two orders from APMEX today. You folks rate 5 Stars! Quality coins, accurate descriptions, careful packaging and speedy delivery. You'll see me back again.
Just wanted to let you know that the check did come and I am very pleased with the coins I traded with you. Excellent. Looking forward to doing more business in the future.
Beyond expectations. You shipped 'Express Mail' for next day by noon and paid more then I paid for shipping to you. Much appreciated. i've been dealing with you now for four years and referred a few friends. We have started comparing best APMEX experiences. I wish my place of employment ran this efficient. Thanks again!
Thank you for the orders. Of all the sites that sell precious metals, I was most comfortable with APMEX. In these times, trust is the most important. And customer service, prices and delivery certainly stand out at APMEX. I wouldn't buy from anyone else.
I received the item Friday, January 30, 2009. Very beautiful. Thank you so much for the outstanding service, quality product, and great price! I look forward to doing business with APMEX in the future.
I have been doing business with APMEX for two years and after many shipments, I have to say that i've never had one problem or issue. That's a darn good track record, in my opinion! I just want you to know that I appreciate your great customer service, inventory and pricing. You make investing in precious metals easy for the average investor. Keep up the excellent work!
Received my order today. It's great to deal with a company such as yours. My order arrived promptly and the items were shipped securely. i'm sure we will be doing more business in the future. Thank you!
Thank you. Based upon your timeliness of the shipping of my first order, and I have two more in the queue, I will be doing a lot of business with APMEX in the future. It is a pleasure having the feeling of knowing i'm dealing with a reputable precious metal dealer. There are many dealers out there who are questionable which made me leery, at first, to do precious metal business via the internet. But it looks like APMEX has stepped up to plate and has hit a home run with me. I hope the other two orders go off smoothly as indicated in my order status, and APMEX can look forward to additional business from me. Thanks guys.
I just received my shipment of coins! This was my first time ever to buy gold or silver, anywhere. Your site was recommended by a friend who buys and sells a lot. I was a little nervous about the whole process, but you made it easy, provided email notification as the process played out, and I am most pleased with the coins, packaging and service! I only regret that a couple of days after first ordering, I did not order again with the Valentine's Day special on silver. By the time I decided to order, the 10 oz. Silvertowne silver bars I wanted to buy for my kids and sweetheart were all sold out! :-( Thanks for the good service.