APMEX Customer Testimonials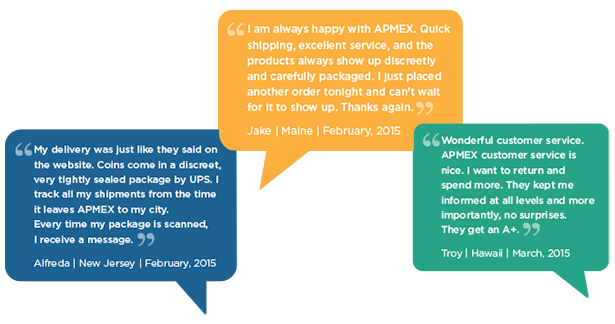 APMEX, You guys are tops! ALL of my orders have arrived within five days of ordering and in good shape! Your shipping department and prices are the best! I will be back many, many times! Thanks for the great service.
I just wanted to let you know how much I appreciate your customer service, the fast shipping, and the great looking coins! What I like the most is your wide selection of coins. Everyone keep up the great work! i'll keep passing on your name when asked where the safest place to buy coins is. I always say APMEX.COM
I received my shipment last week. Nicely packaged, quickly delivered and reasonably priced. Happy to do business with you and will refer friends.
APMEX is a great company to do business with. Great customer service whether buying or selling and super fast shipping. A wide variety of products at reasonable prices. Thanks to your whole organization for handling my orders!
Wow! I was referred to you and you came highly recommended. Super fast shipping, great products at fair prices and excellent customer service. A customer for life.
I just received my coins and I wanted to thank you guys for making the entire process fun and enjoyable. APMEX has certainly earned my trust and respect through continuous professionalism and superior service. Thanks again!
Received my first order from you yesterday. I couldn't be more pleased with the smoothness and professionalism with which my order was handled. There is a good reason why you have an 'A' rating with the Better Business Bureau. I will be making all my future purchases through you. Thanks and keep up the great work!
I have been ordering from APMEX for the past few months and I am very pleased with the merchandise I receive. I can only afford a little each month but I love what I get and the prices are very reasonable. Thanks for the great service.
I am writing to thank you for your great service and reasonable prices. I have done extensive research on various coin dealers via the Internet and have compared your prices with the rest; yours are almost always better. I am a gold and silver 'bug' who buys in small quantities, and your service has been outstanding and incredibly reliable. I just received a shipment today and am amazed with how well you package things. As well, your web site is very user friendly. Thank you!
I was very satisfied with the product I recently purchased, it arrived in perfect condition. Your shipping is also the best i've used.
After nearly three years as a customer I just want to say thanks to the fine people at APMEX who have helped educate and guide me in my precious metals investments.
I received my first order but certainly not my last from APMEX today. I wanted to inform you that all of the coins, except one, were exactly as described and the order processed much faster than expected. The coin that was not as described was the 1948-D MS-63 Full Bell Lines (.50). The coin received was the rare 1948-D no D variety. Fortunately I needed that one too. Just wanted you to know for your inventory purposes. I am very happy with my order and will be a repeat customer.
My order arrived today and all was better than expected. You kept me informed and delivery was fast. Thank you. Hope to buy from you again.
APMEX, thanks! I have ordered from three different web sites and you are, by far, the easiest. My order arrived before scheduled and in perfect condition. Not to mention your prices and premiums beat anyone online. Thanks.
I have made several purchases from APMEX and I am extremely satisfied with each transaction. The web site is easy to navigate. Orders are very easy to place and orders were processed very quickly. APMEX has made silver easily available to the small investor. I do not think better service could be found elsewhere.
I guess I should let you know that the package arrived Friday. Very nice! I'm very happy with this transaction and look forward to more in the future.
I only started collecting coins a year ago. Reviewing other web sites, their policies, pictures, info, quality, service, online help, and security are factors I consider. Thanks for having all of these, it sure helps shopping online headache free.
Awesome first order - You did what you said you would do and then some. Excellent product, service and speedy delivery.
Thanks to you, APMEX, for your great and friendly service and not to mention the APMEX rounds are a wonderful value and look great! I ordered on a Saturday night through the web site. It was my first order with APMEX and by 10:00 a.m. Monday morning I received an email saying my order was being processed. I was to leave for vacation next week so I called to ask how long the shipping would take. I was treated with kindness and professionalism by your customer service professional and she told me my order would be right out...and she wasn't kidding. On Tuesday I received an email saying my order was shipped and on Wednesday I had my new shiny APMEX rounds in my hand. A very satisfying and peaceful transaction with APMEX...and very quick shipping. I will recommend APMEX for quality silver, professionalism, easy to contact and quick shipping. I look forward to making my next order! Thank you.
I would like to thank APMEX for their business. They make it so easy to do business. The packaging is great, prompt and you get exactly what you pay for! Thanks again!
I've dealt with APMEX for several years buying online but just completed my first sell transaction. Staff was helpful and very knowledgeable with my questions. The first transaction process was fast, check in the mail the next day. That is excellent service!