APMEX Customer Testimonials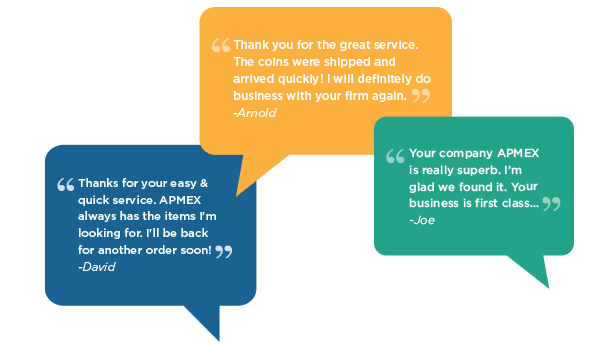 Received my order and am very pleased. Looking forward to my next purchase. Thanks!
As always, I appreciate your courtesy and competitive prices.  By the way, I received my previous order today, and I am very pleased with the coins.
I just received my first order from your company. Talk about lightning-fast delivery! I will certainly look forward to future purchases
Received my order today. Thanks for the very fast service.
Thank you for your professionalism and careful attitude in which our order was handled. This is our second order we placed and if we do any more ordering, it will be with APMEX. We congratulate you on a business that maintains its truth in not only what it advertises but also in what it backs up. Its word.
Just a note to say it is always a pleasure to do business with you. i've been very happy with the service and turnaround i've gotten doing business with APMEX.
APMEX: I just wanted to comment on the efficiency, dependability, and experience of your company. I am 110% satisfied with the service and quality that I have received. I truly applaud your company and all those who work there. Thank you for the excellent service.
I just received my first order within 84 hours. Packaging excellent and great customer service! I will be ordering again shortly just mouse clicks away. Have a great day. Thank you Team APMEX.
APMEX is far superior to GoldenEagle.com. Processing/shipping and receipt time is 75% better. Get my order in days vs. weeks. Will buy from APMEX every time. Thanks.
First time customer, your 99 cent over spot on silver was too good to pass up. I purchased your 1 oz. APMEX silver rounds and APMEX 10 oz. bars. The air tight packaging is a great idea. Shipping was fast and these products are excellent! Whoever does your minting is to be highly commended. Thanks so much for a great transaction and I will be ordering much more from you in the near future.
I received your Engelhard Prospector coins today. They're beautiful. Thank you for your prompt service. I am anticipating my next order with your company. Can't stop looking at your web site. Thanks.
Thank you. Your service is by far the best overall of any I deal with. Keep up the good work.
We want to thank you APMEX for a very fast shipment. We will be purchasing from you in the future. Thank you!
Hello, I ordered silver ingots as my first ever purchase of fine metal. I am very pleased with the competitive pricing and no hassle ordering. Also, I got my order quickly with professional communication. The expert care of the products for shipping and the product quality overall is outstanding. I will continue to use AMPEX in the future. Thank you,
Thank you so much for your very high level of professionalism on my fairly recent order.
I want to thank you for shipping my order to me promptly and proficiently. The coins are beautiful and my wife and I are grateful for your service. God bless APMEX.
I want to thank you for the exceptional service in orders I have made in the past. Whether it be $50.00 or $2,000.00, my orders have been handled quickly and accurately
Alert Me! What a great idea! I suggested that a while ago, and there it is. Thanks APMEX!
I really like you guys. Ordering stuff from you is easy, and most of all trustable/dependable/reliable. That is hard to find in your line of work, in my experience(especially nowadays). You guys rock so keep up the good work!
Over the past year my wife and I have been purchasing from you. We have been very satisfied. I recently put in two large orders (large by our standards) but prior to doing that I used GATT to check on other dealers. After scanning their web sites and seeing their prices and delivery times, I ran right back to your web site to place these two orders. You folks have the best prices and the best delivery and what I already knew is that you ship what you advertise. Can not ask for more then that. So you will see future orders coming from either myself or my wife Virginia. Keep up the good work.
Received my order on 4/29/09. I am extremely pleased with my entire transaction and am looking forward to more of the same! Thank you!