APMEX Customer Testimonials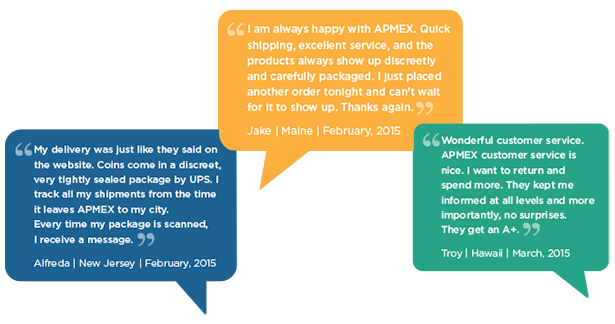 I've dealt with APMEX for several years buying online but just completed my first sell transaction. Staff was helpful and very knowledgeable with my questions. The first transaction process was fast, check in the mail the next day. That is excellent service!
Again, you have done an excellent job for me. This is my fourth purchase, and it went like the others, fault free and the best. Thanks!
Thank you for a site that is easy to use. i'm also pleased that I can see most coins I am interested in purchasing. Thanks again.
I just picked up three orders at the post office and was very pleased with all the product. Looking forward to doing business with you again.
I've been using your service since last summer, and I have had nothing but good experiences.
Just wanted to let you know that my 1/4th oz. Austrian Philharmonic Gold Coin arrived safely today, and it looks absolutely great. I appreciate the rather fast shipping as well. This was my very first gold coin purchase, but it won't be my last. i'll be back! I would like to be able to afford to purchase a larger coin next time, such as a 1/2 oz., or maybe a 1 oz. coin. But for now, this 1/4 oz. coin will do just fine. You have made my very first gold coin purchase a memorable event. Thanks very much.
I received my Gold and Platinum Maple Leaf shipment from you on Friday and want to thank you for the prompt shipping and extremely helpful customer service. I use APMEX because you consistently have the earliest availability of new Royal Canadian Mint products and some of the best prices i've found. i've been very satisfied with each of my purchases from you and will continue to use your service in the future.
My first foray into gold purchases. Great experience with APMEX. I received my consignment within four days and two of them were the weekend! Very satisfied with the entire experience and look forward to more purchases.
Thank you so much. I am very impressed with APMEX and their employees. All three transactions I have made have been a pleasure. Have a great day.
I went directly to the post office on Saturday and they did have my package. Everything looks great. Thank you for the great service.
I just wanted to say thank you for your excellent service. I am very happy doing business with this impeccable company.
I just received my product and am pleased that you take pride in your customers regardless of the amount paid for the product. I was leery at first as i've never heard of your company but now it's first on my list! Thank you so much. Keep this up and i'll be a lifetime buyer.
While traveling overseas, my eldest got into one of my orders from APMEX and told me the $10 gold Liberties were beautiful. You folks are always sending good product and on time and you recently helped me when the postal service was sitting on my package. So after my son's raving reviews of the last order that was received I could not help myself but send in another order today. Thank you for being such a good supplier.
Just received my order earlier than expected. Thank you for your prompt delivery. The coins are in very nice condition and you can look forward to my future orders. Once again, thanks.
I am very satisfied with the professionalism of your company. You never over charge and I would not be surprised if you were the leading bullion seller in the world. You have made me want to be a customer for decades to come and I tell everyone I know interested in obtaining precious metals to go through you. Thank you for your straightforward dealing and know I will be a customer for life!
Received my order and am very pleased. Looking forward to my next purchase. Thanks!
As always, I appreciate your courtesy and competitive prices.  By the way, I received my previous order today, and I am very pleased with the coins.
I just received my first order from your company. Talk about lightning-fast delivery! I will certainly look forward to future purchases
Received my order today. Thanks for the very fast service.
Thank you for your professionalism and careful attitude in which our order was handled. This is our second order we placed and if we do any more ordering, it will be with APMEX. We congratulate you on a business that maintains its truth in not only what it advertises but also in what it backs up. Its word.
Just a note to say it is always a pleasure to do business with you. i've been very happy with the service and turnaround i've gotten doing business with APMEX.