APMEX Customer Testimonials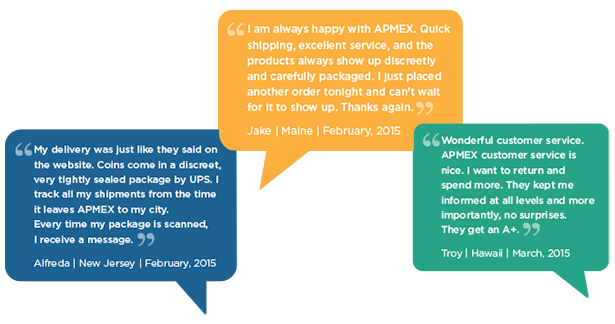 Received my shipment today, and everything was great. I appreciate the good service. I plan to order again soon.
Outstanding service. All aspects of the transaction were first class. No reason to search out another dealer. 100% satisfied.
Hi guys. Received my order. Thanks! Great service!
You have made me a very happy man. Thanks.
Been buying from you guys for at least five years. Absolutely the best, most service oriented, and best priced bullion company I have ever found. I tell everybody about you and remain a loyal customer! Moved from Tulsa, OK to Tampa, FL and now spread the word about you down here. Thanks again.
I received my APMEX silver bar order today - my third order in the month of April. I think the APMEX bar design is the finest of the bars i've recently purchased. Please don't ever change the 'proof' quality of your name brand bars. Buyers like them shiny!
Received three shipments from you today. Thank you for your timely shipping and for the high quality of the coins you sent.
Great. You guys have the best customer service.
After several purchases, I am very pleased and impressed. Fast, accurate grading and a great price! Many thanks.
I just wanted to let you know that I received the check for our transaction the other day. Thank you for another smooth transaction - this time on the buying side. You guys are great, I will choose you again when I next buy precious metals. Thanks so much.
Got my coin yesterday in the mail. Really a nice looking coin. Thank you for your fast service. Looking forward to doing more business with you in the future. Thanks again.
Received my first two orders from APMEX today. You folks rate 5 Stars! Quality coins, accurate descriptions, careful packaging and speedy delivery. You'll see me back again.
I received my coins yesterday. I am very pleased with the excellent process that APMEX uses. It is quick, efficient and very dependable. I hope to do a lot of business with APMEX in the future. Thank you.
Received my order. Very happy with entire transaction. Plan to buy more silver soon. Thanks.
Just wanted to let you know that the check did come and I am very pleased with the coins I traded with you. Excellent. Looking forward to doing more business in the future.
Beyond expectations. You shipped 'Express Mail' for next day by noon and paid more then I paid for shipping to you. Much appreciated. i've been dealing with you now for four years and referred a few friends. We have started comparing best APMEX experiences. I wish my place of employment ran this efficient. Thanks again!
I recently received my order from you. You guys did a great job! I am very pleased with your service. I will continue to use your services and recommend you to anyone I 'CONVERT' to precious metals. Thanks again and keep up the good work.
Once again and for the 13th time (and not the last) you are are the best! One can buy gold/silver almost anywhere, but one cannot get the service you provide, except at APMEX. Looking forward to my next order. Thanks again
Received my order today, ordered 3/10 and received 3/14. I am a first time buyer and my experience was wonderful and easy! I will be doing business with you again soon! Thanks,
You guys are great!  I received my order within five calendar days!  After two months I still have at least two more months of waiting for delivery from one of your competitors.  Wish I had found you first! P.S. I just placed another order with you.
Thank you for the timely response. I guess I just needed a little reassurance on this matter. You guys have the best reputation of all the online dealers. Everyone I know who has purchased from you has nothing but positive things to say. I have referred your company to a few people and will continue to do so if given the opportunity. Thanks again and take care.