APMEX Customer Testimonials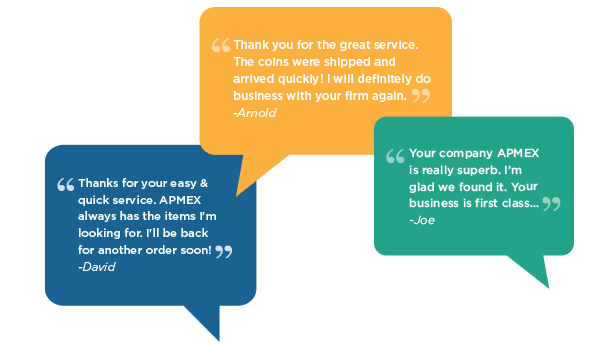 Beyond expectations. You shipped 'Express Mail' for next day by noon and paid more then I paid for shipping to you. Much appreciated. i've been dealing with you now for four years and referred a few friends. We have started comparing best APMEX experiences. I wish my place of employment ran this efficient. Thanks again!
You guys are great!  I received my order within five calendar days!  After two months I still have at least two more months of waiting for delivery from one of your competitors.  Wish I had found you first! P.S. I just placed another order with you.
Received my order today, ordered 3/10 and received 3/14. I am a first time buyer and my experience was wonderful and easy! I will be doing business with you again soon! Thanks,
Thank you for the timely response. I guess I just needed a little reassurance on this matter. You guys have the best reputation of all the online dealers. Everyone I know who has purchased from you has nothing but positive things to say. I have referred your company to a few people and will continue to do so if given the opportunity. Thanks again and take care.
I cannot find the little feedback link anymore, but I am compelled to tell you that I am very happy with my experience with APMEX. Not only were my 15 purchases perfect, but also my four sales to APMEX were great as well! Two-way trading is important to me! i'll be around for more!
Thanks so much. You folks are always awesome to deal with!
Dear APMEX Staff: Thank you for your prompt service in wiring the money to my account. You guys are great -- this is why I continue doing business with APMEX!
Very pleased with the silver bars I received as an exchange for other bars that I was not happy with. Brandon in customer service was very helpful and took care of the whole exchange quickly and satisfactorily. Thanks!
I am well pleased with the service that I have received in my purchase of the 1880 cc gsa (ngc 64) silver dollar. Thank you for the wonderful coin and the excellent service provided. If the price of the 1890 and/or 1891 cc gsa silver dollars come down a bit, I will definitely be considering APMEX for my purchases. Thanks.
My last purchase (from another company) resulted in constant calls from the company. This time, I searched a number of companies and blogs and read complaint after complaint. The name APMEX turned up twice with compliments next to complaints about the other company. So, I decided to give APMEX a try. My wire transfer order was placed late on a Wednesday afternoon. I was totally amazed come Friday morning (less than 48 hours later) to find that my order processed in Oklahoma had made its way to Pennsylvania. I have never had any type of order delivered at this rate of speed. The package was very nicely assembled. One would not suspect what it contained judging by the size. I have already been telling others about APMEX. Thank you, APMEX!
Just wanted to let APMEX know that I have received the bars and shipping reimbursement. I have to say that APMEX customer service is top notch. Thank you.
Thank you!  Great customer service!
APMEX employees and staff, as always, my recent purchase arrived safely, exact to description and on time. I wish more companies operated as yours does! Keep up the good work! Thank you.
You folks do a great job of fulfilling orders! Timely, professional and efficient! I wish the U.S. Mint could be as good on its shipment of the Ultra High Relief St. Gaudens -- which have been delayed and delayed and delayed! Hope you get some of the original St. Gaudens in stock soon.
You guys are awesome. Thank you.
Dear APMEX, this is the best service one could ask for. I placed a small order on 2/26, a Thursday, credit card cleared on Friday and today, Monday 3/02, my order was here. Thanks for all the little guys. Just hope that this year is a lot better so the orders can increase again. Thanks again for the great service and I will surely be back in the near future.
I just received the order shipping notice this morning - awesome turnaround! For someone like myself who runs a business where timing and public sentiment is paramount, quick decisions about products and inventory are the norm. APMEX is helping me meet those demands and continue to be responsive to customer's needs in a chaotic economy. Kudos! Thanks for making a difference!
Item receivied! Thank you very much! I appreciate a business that follows through and meets expectations!
Just wanted to say that you guys are the best. Everything I have ordered was delivered in perfect condition and your turnaround time is awesome. Just wanted to give you guys some well earned compliments! Thank you!
I am a new silver investor and recently received my first order. Your company is great and my transaction was perfect. You're never quite sure when you send your hard earned money off to the unknown but I was very pleased and have already submitted my second order. Thank you for the great service!
I just received my first order from you today. I wanted to take a moment and thank you for the great care in which my order was shipped. The professional packaging my fine silver investment was placed in was flawless! I am new to the world of fine metal and coin investments. I look forward to future orders and the chance to learn more on investing from you. This was a fun and exciting start for me. Thank you all.