APMEX Customer Testimonials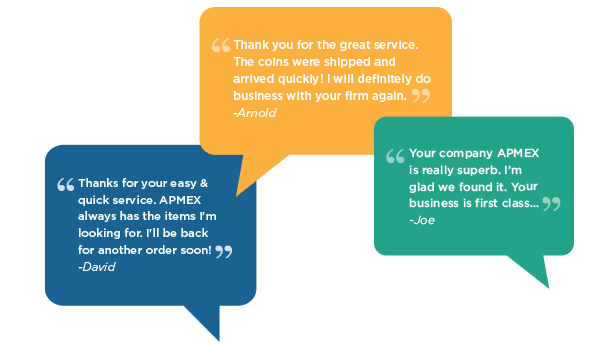 I am extremely impressed at your overall service. I have ordered with APMEX quite a few times and every time I get my items just the way APMEX advertises. I had a small request today and spoke to Jana. Without hesitation she was willing to find a solution. I want to make sure that a manager or your owner realizes that your company does a great job in terms of its customer service.
Thank you for the orders. Of all the sites that sell precious metals, I was most comfortable with APMEX. In these times, trust is the most important. And customer service, prices and delivery certainly stand out at APMEX. I wouldn't buy from anyone else.
I received the item Friday, January 30, 2009. Very beautiful. Thank you so much for the outstanding service, quality product, and great price! I look forward to doing business with APMEX in the future.
Received my order today. It's great to deal with a company such as yours. My order arrived promptly and the items were shipped securely. i'm sure we will be doing more business in the future. Thank you!
I have been doing business with APMEX for two years and after many shipments, I have to say that i've never had one problem or issue. That's a darn good track record, in my opinion! I just want you to know that I appreciate your great customer service, inventory and pricing. You make investing in precious metals easy for the average investor. Keep up the excellent work!
Hello. Just received my first order from you folks. Could not be happier. Everything went smooth and was I impressed with the packing and shipping. You guys will get all of my orders in the future.
I just wanted to say that I love doing business with you. You ship super fast and the quality is always spot on or better. I know I am not a big investor, but you make me feel like I am with your great service. Thank you and keep up the great work!
Hopefully someone reads this! Just wanted to say that you guys are the best online bullion company in the world! I can't believe how awesome you guys are. Thanks a ton!
I love the APMEX bars! The others do not seem as well made. $2.50 or even $2.00 over spot is a bit expensive but no more than other sites which do not seem as professional. The shipping is discrete and pretty fast. I just really like your silver even if it means keeping it forever just to look at it! (Everyone hopes to get rich off something.) If anyone does read this, I suggest to them to look at the industrial use of silver and the rate it is used up - never again to be seen. Just keep that in mind! Thanks again!
I am a very small hobby/dealer. I order as frequently as my budget allows. I wanted to thank you for the superior service and beautiful, accurately graded coins you have sold to me. It is a pleasure doing business with APMEX. I feel like you treat me as well as the big guys, often exceeding my expectations. Thanks again.
I'm so impressed with your customer service and order processing. You're the best precious metal company out there with the greatest prices! Excellent! Fast shipping! Thank you! Keep up your good work.
Received my first order from APMEX today - just one day after it was shipped! It was very expertly packaged. I appreciate the excellent design of your web site, the web-accessible updates on order status, and the great overall service from APMEX. Clearly, customer satisfaction is a big part of the philosophy there. i've dealt with some of the others, and i'd say APMEX is the very best! I look forward to making all of my future precious metal purchases from APMEX. Thanks,
This month marks my fourth year of buying and trading with APMEX. You and your group of professionals have made it a fantastic experience. You read all the bad news of how some companies in the precious metals business say one thing and do another, not APMEX!</br>Your team is always courteous, polite and will spend as much time with me as necessary when I call, instead of using the internet. APMEX delivers what it says, when it says and I commend you and your staff. All of the above is why, since December 2004, I have only done business with you. I have referred five people to your company as well. They have thanked me for telling them about APMEX, and now I thank you and your team for taking care of them. God bless you and yours. I wish for you and your company a happy and prosperous 2009! </br>P.S. Almost forgot...thanks for the popcorn!
I received my package today. It was in excellent shape. Your shipping department deserves the credit for that. You should send a few of them to US Mint to train their shipping group. Thanks for a job well done.
I ordered some Confederate notes from APMEX. They arrived quickly and were in great condition. I just placed another order for various coins. I have to tell you that your ordering process is as close to idiot-proof as is possible. I am obviously dealing with a great team of professionals. Thanks!!
Placed a small order on 01/01/09. Order payment went through on 01/03/09 and an approximate shipping date on 01/10/09. To my surprise today 01/09/09, a day before the ship date, I received a package from APMEX. My order was perfect - the coins just great. That is why I deal with APMEX as your service is outstanding. Hope to place additional orders in the future. Thanks again for the fast service - even for the little guy.
In a time of economic turmoil, it is a comfort to know that there is a company that is dependable, efficient, honest and provides an elegant selection of bullion. Thank you! You have created a very loyal customer. May your 2009 be filled with peace and prosperity.
I received Canadian Maples today and they are beautiful. Thanks.
Just a note to thank you for the unexpected gift tin of popcorn which I received during the holidays and to once again let you know that I appreciate the fine service i've experienced with your firm over the preceding year. A belated Happy New Year to the staff at APMEX! Best Wishes.
I received your package, and thank you for your excellent service. I am so impressed with your company.
Excellent service - thank you!