APMEX Customer Testimonials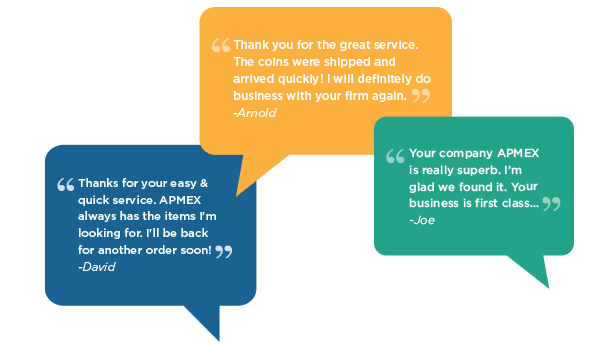 Excellent service - thank you!
I received my order today. I am certainly impressed with the promptness in which the order was handled. I received it within three days of the order. I will certainly keep you at the top of my list when I consider ordering online. Thanks for your excellent service.
I only want to send a brief message to compliment you on an extremely well run company. I sincerely appreciate your wide selection of merchandise and the very competitive pricing. You have an excellent and informative web site and your personnel at the order processing department are very accurate and never make mistakes. I hope to do business with your company for many years to come. Also, thank you for the very nice popcorn that you sent at Christmas. I hope that you all will have a happy and pleasant New Year. Thank you.
I just want to say thank you guys for sending this to me out of your normal waiting period. I really appreciate it and hope everyone there has a great Christmas! Also, thanks for the popcorn!
Saw a package for me from APMEX and it seemed a little light for 100 oz. of silver, so I was very surprised and pleased to see that I got a big beautiful tin of POPCORN from you folks for Christmas. What a nice, unexpected gift. Thanks!
Good morning! Thank you very much for the popcorn tin for Christmas. That was very nice of you. Merry Christmas and Happy New Year to all of you.
Just a quick note to say thank you for the popcorn. Been dealing with your company for some time now and couldn't be happier! You are by far the best precious metal dealer out there. I feel fortunate to have found your company. Have a great holiday, all the best.
To all at APMEX, thank you for the popcorn gift, very thoughtful and a real surprise. You really have a great company and I wish you all happy holidays and a happy new year.
Very many thanks for the popcorn delivery and for the excellent service that you provide. We wish you many thanks for all and more success than ever before. Thanks for being there for us.
Hello Everyone. Your delicious gift of popcorn, in addition to your marvelous product lines and services, was indeed a great surprise at our home. Thank you so much, and I will continue to be a loyal customer. Happy Holidays.
Thank you for the popcorn tin. Wishing you all a very Merry Christmas and a Happy Prosperous New Year.
To the APMEX Team, thank you very much for the excellent and impeccable service you provide. I have placed 16 orders within the last month and every time it has been a wonderful experience. As a military service member stationed overseas in Germany it is very hard to find a trustworthy company to buy precious metals at competitive prices and you guys provide that service to us. Most companies are either not reliable or do not ship to military addresses overseas. APMEX is my only source for precious metals. In this tough economy it is a breath of fresh air to trust somebody to deliver a product in a timely manner. On behalf of my family and military service members around the world, thank you for supporting the military and for providing such an awesome service. Happy Holidays! </br>P.S. i've heard about APMEX popcorn from last year. Hopefully you guys can do that again this year. Looking forward to some popcorn.
Thank you very much for the popcorn! It will be enjoyed at a family Christmas Eve party and is very much appreciated. Warmest regards & Happy Holidays!
Thanks for the popcorn gift. Have a happy holiday.
Thank you for the Christmas present. Your boss is a class act person and you run a great company. Thank you for the great service. You should all be proud to work for APMEX. Thank you again and Merry Christmas to all of you.
My payment received is good news, but better came today! The mail lady dropped off the dual date Maple Leaf coins I ordered, and they are better than I expected! Great job you people!
Hey Guys/Ladies, thanks for the popcorn and card - very nice gesture. Merry Christmas to all of you as well. Been a crazy year and I hope that we have a better '09. Best to you,
I found your company in 2005 and have been extremely satisfied. I was just as excited today, when I got a delivery, as I was with my first. Thanks for your exceptional service and for not letting me down with the customers i've referred. They love you too. Happy Holidays guys!
Thanks. Great service. Merry Christmas and a Happy New Year.
Thank you so very much for the lovely container of delicious popcorn you sent to our family. The perfect gift for the holidays. And thank you for helping us to secure our financial future through the purchase of gold and silver. We wish you a most blessed Christmas and a prosperous New Year.
Thank you. I like the way you conduct your business. Merry Christmas.