APMEX Customer Testimonials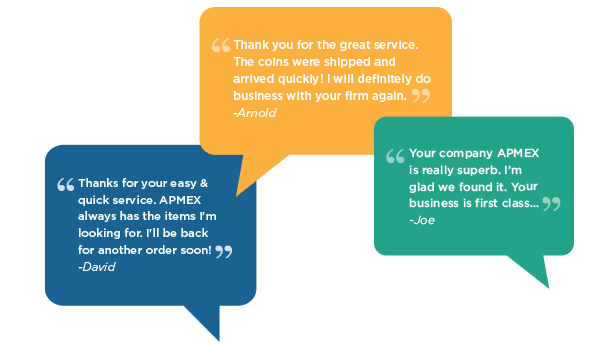 Just wanted to drop a line and thank you for your quick service on my recent purchase of the 2000, 2002 and 2004 Silver Britannias. Beautiful specimens. I can hardly wait for the entire series to be completed. Completely satisfied again. Best regards.
Hello, I have always bought my PM at a local coin shop but after hearing many positive comments about APMEX I decided to try a 'test' internet order last Wednesday 6-3-08. I got notification it shipped Friday 6-5-08 and it arrived at my home Monday 6-9-08. I cannot see anyone beating your prices or service. Thank you and expect more orders from me in the future.
I just received my order. I just want to say that I am very happy with APMEX. All of the items I received were of higher quality than I expected. Thanks again.
Hello APMEX, just thought i'd drop a line to let you know how much I appreciate the rapid response on all of our dealings to date. Look to do more business in the future. Thanks again. Best Regards.
Hello to everyone at APMEX, I just wanted to let you know how much I appreciate your fast shipping times. I placed an order last Thursday, and by Monday it was here! Thanks very much.
In my experiences with your organization, your products are of the best in the industry, superbly packaged and and the most timely delivered of all the others in this business. My gratitude to your staff.
I just received my current order of 10 ounces of silver. The 10 Swiss of America 1 ounce rounds look great and I am glad that I purchased them from APMEX. Best regards.
Although the economy has slowed, my last two purchases have reaffirmed the fact that your company provides the best service. Your professionalism and speed of delivery cannot be matched. Thanks again.
APMEX has done it again. I ordered the 2008 Silver Eagle with 07 reverse on May 8th and received it today May 13th. You blow everyone out of the water with your great customer service and super fast delivery. My order was shipped on May 9th, which may not seem like much but I live in Puerto Rico. All your competitors take anywhere from two to three weeks and more to ship here. Thanks.
I received my order today and i'm very happy with it. A record fast delivery! Thank you very much.
I just wanted to say i'm very happy and pleased by your service, professionalism and work ethic in this business of silver and gold. I have received my silver and paper currency in a timely manner. I will continue buying silver from APMEX for a long time to come. Thank you!
As a new customer, I would just like to say that i'm impressed with your company. i've placed two silver bullion orders and each one was processed and delivered in a very timely manner. Your pricing is very competitive compared to other sellers. Just wanted you to know that I appreciate your service. As a businessman, I always hear about when things go wrong, seldom when they go right! Thanks!
Dear APMEX, I just wanted to let you know that you guys are the best. Being fairly new to purchasing precious metals, I naturally had to check out a number of dealers by making purchases at five different ones. I would definitely recommend APMEX over the others for quality, value and service. Thank you for making purchasing of precious metals an extremely easy and stress-free process! Thank you! -
Received my order on 4/25. Thank you, they are absolutely beautiful, and the service was outstanding. Once again, thank you!
Recently, I received my silver order and couldn't be more pleased. Thank you for the super service on this order, as well as past ones.
I had just placed my first order with your company and i've got nothing but good things to say! Although I have purchased PM bullion locally before, I was a bit leery of going through the internet. Even though the palladium bullion I ordered decreased quite a bit in value since I purchased, that's the nature of the beast, so to speak. You are a truly upstanding and outstanding business and I will continue to order more from you in future purchases! Thank you APMEX!
Dear APMEX, my son and I are very happy with the coins we bought from you and we appreciate the Red Book. Thank you for the timely dispatching of our order. We have a very high regard for the way you run your railroad. Thank you again.
Dear Michelle and other company employees, I would like to take this opportunity to thank you for the outstanding service and products that you have provided for me. I have placed many orders, so please forgive me for not including all of your names. In the past, I have purchased silver American eagles and maple leafs. I have always been satisfied with your service, price and product quality. Today I received my MS64 $20 St. Guldens gold coin from you. The strike, luster, field quality and eye appeal are everything I had hoped for. You even managed to send me the year that I wanted. I am looking forward to receiving my next order from you. I really have no desire to do business with anyone else. Needless to say, I will be continuing to recommend you to all numismatists that I encounter. Thank you and have a great day!
I just received my first purchase from you guys and I was very satisfied. I looked around at other sites for buying gold/silver or whatever and most require you spend thousands of dollars or large amounts. I think one of the best features you guys have is that you have a low minimum purchase so even the little guys (such as myself) who don't spend large amounts of money can take advantage of your services. I have already placed another order through you guys and hope to do more business through you. It's also cool that you take debit cards as well. Most places don't, which in my opinion costs them business just like forcing high minimum purchases. i'm glad I stumbled onto this site first. Keep up the good work.
I just have to say that I am impressed with 1. The speed which you have processed my order. 2. The way the purchasing process was handled. 3. The way items are displayed for viewing so the customer can have an accurate description of the items they are purchasing. 4. And even down to the details of informing me by e-mail that my order has shipped. I have not yet received the items, but I am extremely impressed already with your service and will probably be doing business again with you in the future. Keep up the high quality customer service and you will be in business for many years to come. Thank you.
I received my order today and i'm very happy with it. A record fast delivery! Thank you very much.