APMEX Customer Testimonials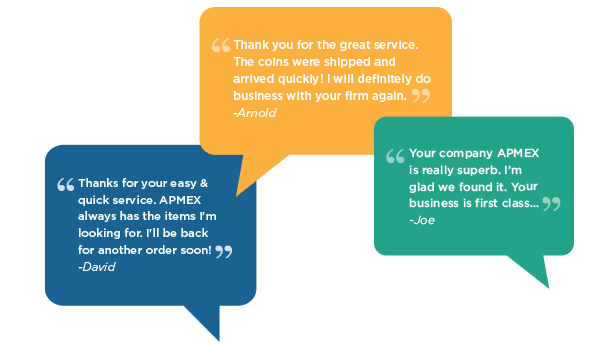 I received my order today and i'm very happy with it. A record fast delivery! Thank you very much.
My first shipment was very well packaged. The items were as described. As a small investor, i'm very well pleased with your company. I will be ordering again soon. The ease of using my Visa card is great! Thank you.
I just wanted to thank you for the coins and very quick shipping! Your prices are better than fair! I have added your site to my favorites and plan to buy more. Thank you!
Hello, I just wanted to take a minute and thank you for the quick shipment and a great set of coins. It has been a pleasure doing business with your company and I will keep checking your web site for other coins I am looking for.
Thank you for the quick response in the manner in how my order was processed and shipped. If this is how you respond to all orders, I plan to make more as time and funds will allow. Again, I thank you.
As a new customer, I would just like to say that i'm impressed with your company. i've placed two silver bullion orders and each one was processed and delivered in a very timely manner. Your pricing is very competitive compared to other sellers. Just wanted to know that I appreciate your service. As a businessman, I always hear about when things go wrong, seldom when they go right! Thanks!
Hi! Once again, you make it a pleasure to do business with you. I have nothing to say but good things about your company. You have, in my opinion, by far the best coin store on the Internet, hands down. You run a very good business and have great communication. Your products are perfect. Thanks again.
Hello! Thank you. I can't say enough nice things about you people. I recommend you to everybody I know. I wish everybody was as responsible and caring as you were about each order - big or small. i'm sure our orders are considered small, but they're growing and with help from people like yourselves, faster than we had even hoped. Thanks again.
Thank you for everything. I love the first buy I bought from you.
I am very pleased with everything that I have bought from this company. Fast shipping and the best price of anyone and the quality is the best. You're the only one I will buy from. Thank you and I will be ordering more.
Thank you, I love doing business with you. Never a hitch, always very smooth and fast. Perfect. Thanks!
Dear APMEX, thank you for the delicious popcorn. I am going to enjoy it with a movie tonight. I must admit you are my favorite company to buy gold from -- reliable, timely, good communication. I hope every one at APMEX has a nice holiday!
Hello APMEX, just wanted to thank you very much for all the notification. I got the the box of my order today. It was packed very well. I like your web site and all kind of varieties of the products you offer. I shall definitely continue being a loyal customer of yours. Thanks again and best regards.
Greetings to you all, Merry Christmas and Happy New Year. In the almost two years I have dealt with your establishment, you have never failed me. You had a quick response and help me any time, which is why you will be my number one choice for my gold bullion needs. Your staff, from sales to shipping and accounting, are superb personalities and great assets to me. Keep up the good work. Your Christmas gift was greatly appreciated by my family. Have a prosperous Year in 2008 and good health to you all. Regards.
Just wanted to thank you for the very nice Christmas tin of popcorn! I scarfed most of it down watching Scrooge (an annual Christmas Eve ritual of mine)! Hope everyone at APMEX had a wonderful Christmas and may you have a happy & prosperous 2008!
Hey APMEX, thanks for the popcorn! My wife and I ate half of each flavor the first night received. Merry Christmas and Happy New Year to all of you. Peace.
I would just like to thank Randy for his prompt reply and helpful message per my question about coin sizes!
Congratulations APMEX! You thrilled me literally (with the first order) and you now have this account! Your entire process is easy and by far the best I have seen to date online. Far, far, far better than NWT Mint! Even Monex! You have my highest recommendation. I just wanted to say thank you sincerely to all your personnel and for their great work. I can't stress this enough! Cheers.
Dear APMEX, i've been a PM investor for many years and have been buying from you for about 18 months. Your company provides great service at very competitive prices. The ability to order over the internet 24/7, along with my complete trust in you, (which you have faithfully earned), makes buying very easy. The best of the holiday season to all of you who work so hard to make buying gold and silver so easy!
I just wanted to say thanks to you all for the unexpected gift and the exceptional service. That is very classy to send your customers a big tin of popcorn for the holidays. It actually made a good day better. I set it up on the fridge. I don't think it will last long though. Best wishes.