APMEX Customer Testimonials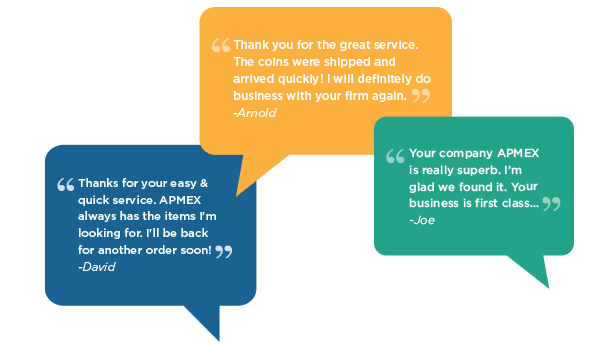 Thank you. I like the way you conduct your business. Merry Christmas.
I just wanted to say thank you for your excellent customer service. I just found you this summer and have experienced nothing but exceptional service dealing with your company. Then today I come home and not only has the last order I placed showed up but there was a tin of popcorn as well. I had read on your site you were sending out popcorn but had no thoughts of getting one myself as I am a relatively new customer. But once again you go above and beyond my expectations. Now if I can only get you to open a retail store near me. Thanks once again, you have more than earned my loyalty this past year.
Gentlemen: I thank you for the fine gift sent to me for the coming holiday season and appreciate your thoughtfulness. I am pleased with the purchases made and look forward in continuing our relationship.
Thank you for the tin of popcorn from the popcorn elves. I was pleasantly surprised to see the box waiting at my door as I returned home from work. I read about this just this past weekend on your web site. I never dreamed I would be on your list. Thank you and Happy Holidays to everyone at APMEX, and continued success in 2009.
I wish to thank you for your Christmas gift. I would also like to commend you for your excellent service. Whenever I decide to buy metals, your firm always comes to mind first. Again, thank you and Merry Christmas and a happy and prosperous new year.
Received my orders today and really like what I have purchased! My first order! I thank you for refunding shipping charges after combining these orders, that was the right thing to do! It shows me you are not so 'automated' to check out a special situation! Yes, I will try to order everything I want at the same time! Thank you.
Hi guys. I just wanted to thank you very much for the awesome popcorn canister that I got in the mail from you yesterday! I will serve it to my holiday guests over the next few weeks, it really comes in handy. My holiday greetings to all of you, and thanks for your great service all year long. Now, let's hope that it becomes easier to get the physical gold and silver so you have more to offer on your site! Thanks so much.
What a pleasant surprise your popcorn tin was. We are only small investors/collectors and did not expect anything. The popcorn was perfect, my wife has it half gone already, it is her favorite snack. Also, enjoyed your Twelve Days of Christmas promotion. It was responsible for many nice gifts. Merry Christmas and a prosperous New Year.
How thoughtful sending the popcorn tin, that was a really neat surprise. Just wanted to say thanks and wish all of you at APMEX a very Merry Christmas!
I wanted to take a moment to thank you very much for the popcorn tin. We have been very happy customers throughout the year and look forward to doing a lot more business with you in 2009. Best Wishes!
Thank you for the great Christmas popcorn! This has been my first year purchasing from you and you have always had on time delivery and fair prices. Your name keeps popping up as a trusted metals dealer, and it is a well earned reputation. Merry Christmas to all of you and a prosperous New Year too! Thanks again.
Yesterday we received a nice box of popcorn from you. What a surprise! We will have some of our grandchildren here over Christmas and they are going to enjoy this treat (we will too). Merry Christmas to you and your colleagues.
Thank you for the tin of popcorn. I saw the large box from APMEX on the kitchen table this evening after work, and thought there must be some mistake. I surely did not order that many coins! Thanks again, and let's hope for a better 2009!
Just wanted to thank you for the thoughtful Christmas gift!
Thank you for the nice gift you all at APMEX sent me, the popcorn is great
Thank you for thinking of us and sending the delicious popcorn. We really appreciate your generosity and your support of ICTA for so many years. Have a joyful holiday season and a happy, healthy, and prosperous 2009.
Thanks for the popcorn! Nice surprise.
Greetings! Thank you for the gift. I hope all you guys have a wonderful holiday.
To everyone at APMEX including the elves, thank you, thank you, for the popcorn! Yum! (My husband loves it!) I was trying to save it for our holiday guests. What an amazing touch that is. So many companies would be better run with all of you at the helm! Your integrity is second to none. I will be doing business with you for years to come and recommend you to everyone. Happy holidays and happy 2009!
Thanks for the nice surprise. Merry Christmas and Happy New Year to all at APMEX.