APMEX Customer Testimonials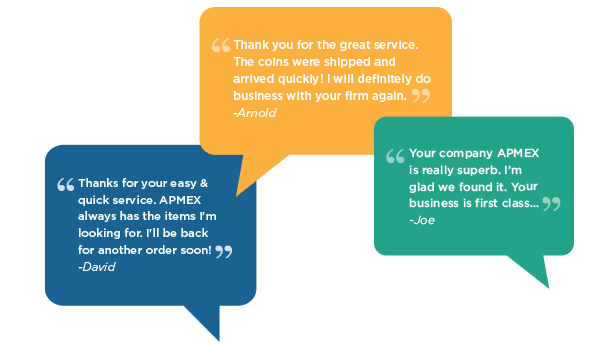 I would like to take this opportunity to tell you what an asset Jana H. is to your team. We have completed many gold bullion transactions with your company. The last transaction we had, Jana was so very efficient, helpful and on top of the transaction at all times. We needed special attention on this order and she was there for us, as she has been in the past.</br>I own and have owned many businesses and I firmly believe that customer service is the backbone of the company, which also reflects on you as making super choices in your staff. Please give Jana the kudos she deserves. We are looking forward to a long business relationship with your company. Best Regards.
I received my coin today and wanted to send a note. Thanks for the quick and professional resolution of my problem! I will not hesitate to buy from APMEX again and will highly recommend you to my friends. Thanks again for all your help!
I thoroughly enjoy working with you folks. Thanks for the great customer service!
I just wanted to say thank you for being here. I am retired now and have time for my collection again. Thank you for being fast, courteous and efficient. I am able to find what I want easily and my orders are not large but you treat me like the 'big guys.' That means a lot. I wish you continued success in this business. Thank you again.
I received my order. I just wanted to say thank you for the great service and timely fashion in which it arrived. It's always a pleasure doing business with people like you. Thank you!
Thank you. Thank you. Thank you! I received my coin in pristine condition, protected with the best packaging in the business. I am very happy with my purchase. The coin was everything I saw in those great scans of both sides. Your newest fan.
The 2008 GIM Rounds arrived this morning. Thanks again for the excellent service. i'm most pleased. Best wishes.
The USPS postman delivered my order today at 1:55 p.m. for which I signed. You're a very proficient company. i'm glad that I found you on the internet! i'm 92 years old and my son was amazed at my being able to sort through all the 'mumble jumble' on the coin pages to find you don't have any tricks.</br> The coins arrived in their sets in perfect shape and even in their respective boxes. I thought I had ordered those from the U.S. Mint. When my daughter was here from Wyoming for my birthday June 12th, I had her dig in my closet where I kept my disorganized mess of coins. I could not find the 50 state silver proof coins for 1999 thru 2003. I checked my coin purchases file and could not believe I never ordered those years from the U.S. Mint. You saved the day! Thanks. "
Just received my coins from you. They're in excellent condition! Thank you for the smooth transaction.
Hello, I have always bought my PM at a local coin shop but after hearing many positive comments about APMEX I decided to try a 'test' internet order last Wednesday 6-3-08. I got notification it shipped Friday 6-5-08 and it arrived at my home Monday 6-9-08. I cannot see anyone beating your prices or service. Thank you and expect more orders from me in the future.
I just received my order. I just want to say that I am very happy with APMEX. All of the items I received were of higher quality than I expected. Thanks again.
Hello APMEX, just thought i'd drop a line to let you know how much I appreciate the rapid response on all of our dealings to date. Look to do more business in the future. Thanks again. Best Regards.
Hello to everyone at APMEX, I just wanted to let you know how much I appreciate your fast shipping times. I placed an order last Thursday, and by Monday it was here! Thanks very much.
In my experiences with your organization, your products are of the best in the industry, superbly packaged and and the most timely delivered of all the others in this business. My gratitude to your staff.
I just received my current order of 10 ounces of silver. The 10 Swiss of America 1 ounce rounds look great and I am glad that I purchased them from APMEX. Best regards.
Just wanted to drop a line and thank you for your quick service on my recent purchase of the 2000, 2002 and 2004 Silver Britannias. Beautiful specimens. I can hardly wait for the entire series to be completed. Completely satisfied again. Best regards.
APMEX has done it again. I ordered the 2008 Silver Eagle with 07 reverse on May 8th and received it today May 13th. You blow everyone out of the water with your great customer service and super fast delivery. My order was shipped on May 9th, which may not seem like much but I live in Puerto Rico. All your competitors take anywhere from two to three weeks and more to ship here. Thanks.
Although the economy has slowed, my last two purchases have reaffirmed the fact that your company provides the best service. Your professionalism and speed of delivery cannot be matched. Thanks again.
As a new customer, I would just like to say that i'm impressed with your company. i've placed two silver bullion orders and each one was processed and delivered in a very timely manner. Your pricing is very competitive compared to other sellers. Just wanted you to know that I appreciate your service. As a businessman, I always hear about when things go wrong, seldom when they go right! Thanks!
I received my order today and i'm very happy with it. A record fast delivery! Thank you very much.
I just wanted to say i'm very happy and pleased by your service, professionalism and work ethic in this business of silver and gold. I have received my silver and paper currency in a timely manner. I will continue buying silver from APMEX for a long time to come. Thank you!