APMEX Customer Testimonials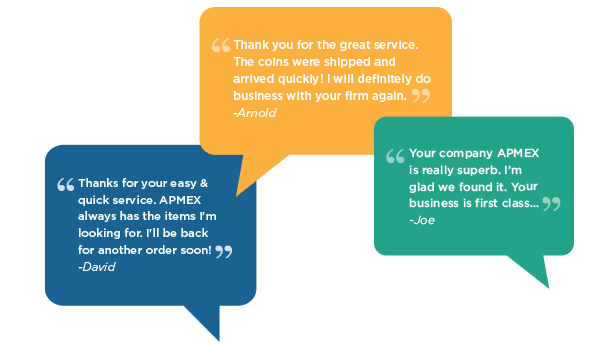 Very gratifying experience! Keep up the good work!
Great service and products. Thank you.
Your employees gave outstanding service and information… far better than any other supplier I have used… over the immediately-past four years.
APMEX is the only one I deal with now. No worries. Great service & prices.
I am 100% satisfied with APMEX products, prices, and services. I state this after having conducted several transactuons over several years. Keep up the top notch work.
Why buy anywhere else when you can buy from APMEX, fast delivery. Thank you.
The people who work at APMEX are always very helpful, patient and they feel like family.
I had an excelledt experience with APMEX and will use them for all future bullion purchases.
What ever product you use to glue the package together is outstanding. I was not strong enough to pull the package open and ended up cutting through the glue. I wish I had glue like that laying around.
Yes, I have already recommended your firm to an investing friend. I am very pleased with my recent modest purchase and am planning the next one. I also appreciated the professional approach of your agent, and have him in my book as the go-to-guy for any future transactions involving precious metals. Keep up the fine work!
For years I wondered about buying gold-where to go, how to pay for it, how would it be handled, etc. I can't believe how quick and easy it was to odeal with APMEX. Thank you.
I am starting a new silver coin collection, I had one years ago. So I love APMEX's variety of coins and plan on buying a few every month until I reach my planned goals. Next up Canadian Maples and maybe Kookaburras. Keep up the good work.
You folks impressed me greatly. I will be back again.
I am very pleased with the service I have received from APMEX over the years.
Dear Laadies and Gentleman, Thank you very much for your fast and correct delivery. Best wishes!
Excellent coins. Very pleased with the whole transaction.
You have all my business in the future, I was contacted by a company called goldline no thanks… APMEX is where my business goes period. Thank you.
Very satisfied. Keep up the good work!
I was surprised and pleased at your prompt and efficient service. I'll definitely think of APMEX next time I buy.