APMEX Customer Testimonials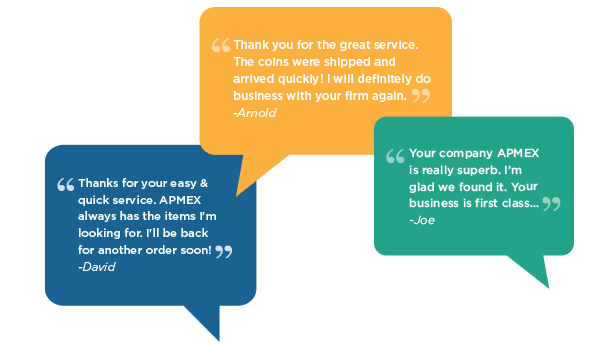 I just wanted to say thanks to you all for the unexpected gift and the exceptional service. That is very classy to send your customers a big tin of popcorn for the holidays. It actually made a good day better. I set it up on the fridge. I don't think it will last long though. Best wishes.
Just wanted to drop a line thanking all of you for the card and munchies! A very happy and healthy holiday season to everyone at APMEX. I wanted you all to know the short time i've been dealing with you has been a very rewarding experience. I find you all to be very courteous and professional in your practices, which is hard to find these days. I look forward to doing more business with you this coming year, and may we all prosper!
I don't remember who hooked me up to APMEX a few years back, but I have since sent many people your way. APMEX is one of very few honest online bullion dealers I have found...and i've searched them all. :) Thanks for your great service and the popcorn too. Merry Christmas and God's blessings to you all.
Thank you for the Christmas gift! That was kind and brought a smile to my face. We'll enjoy it! Merry Christmas.
Dear APMEX, my order came today and of course I was very pleased with my purchase. You are fast to ship and the metal is always beautiful. Thanks to everyone involved for making this such a pleasant buying experience. Merry Christmas to all.
I got my first shipment from you today (Dec. 24). I was impressed as to how well my coins were packaged. I was also impressed with the overall luster of the coins. Usually when you order from other companies, an MS-60 order turns out to be an AU-55 or so, but not this time. They were all the grade you said they were. Thank you very much. I would like to know if your company will offer the first day cover of the Presidents. I notice that you offer the quarters. If there is any plan to handle them, I will wait and order from you. Thanks again.
Hi Guys. Just wanted to thank you for the awesome popcorn tin that I got in the mail yesterday. I love the carmel corn the best! You are just the best to do business with, fair prices and good quick service. Wishing you Happy Holidays and a prosperous New Year!
I just wanted to say thank you for being so user friendly and accessible to investors like myself who can't afford to spend a lot at one whack. Your customer service and the fact that you offer just a $50 minimum are awesome. Please keep up the great web site and don't fix what isn't broken!
I would like to thank you for your excellent, prompt and professional service. I have ordered from you several times and I definitely will be ordering from you again. I will highly recommend your company to others. Thanks again for your excellent service.
Hello APMEX, I got the box of silver today. Thank you! It was packed very well, just what I wanted. I will buy again!
All of the coins I have purchased have been great. A+! Thanks.
Thanks for all the great service. Never once had a problem.
Thank you very much for the shipment notification. I love your online store for the wide variety of products you offer and the great friendly service. I shall definitely continue being a loyal customer of yours. Thanks again and best regards.
Just wanted to thank you for your great, quality, customer service. I have looked into a lot of other dealers and I think you are the best. Thanks again.
I want to thank your company for the services you provide. i'm a new collector, and I know that the coins I purchase from you company are authentic and in excellent condition. And thanks for your top-notch customer service. I will only do business through your company. Thanks again.
Received my order today 10/10/07. Everything was as ordered and in great condition. Good communication and fast shipping. Thanks to everyone, especially Randy for his help in the trade.
I received my order today and am quite happy with my latest purchases. The Douglas MacArthur 1947-S Dollar and Half Dollar Philippines Memorial Set in the Capital Holder is a definite asset to my military coin collection. I thank you for the smooth transaction and fast delivery.
My order arrived! i'm very happy, but wish I had started buying from you years ago! Was a smooth transaction. Thank you.
I just received my first coin order from your company, a British sovereign. It was of excellent quality and far exceeded my expectations. The careful wrapping of the coin was just out of this world. A really professional job all around. You will have me for a customer for a very long time.
I just wanted to say thank you for your services. I make, I am sure, tiny orders compared to many clients, but buying small quantities of gold and silver every paycheck is my version of a savings account rather than speculation, not to mention probably wise wealth preservation (and I use 'wealth' tongue in cheek) considering the current economic realities. Anyway, I enjoy being a customer, and am always excited when the APMEX box arrives. I wish you continued success.
Thank you for the last order. It was prompt and packaged nicely. I will definitely be shopping more with you. Your prices and service are great!