APMEX Customer Testimonials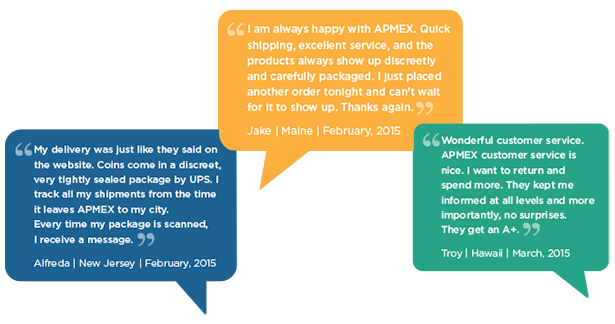 Just wanted to say Merry Christmas and that I thoroughly enjoyed the popcorn. It's nice to be remembered during the holidays. i'll be doing business with APMEX for years to come.
Wanted to thank all the staff at APMEX for the Christmas tin (very thoughtful) and also for the always excellent service provided throughout the year. Look forward to 2009 with APMEX. Thanks again to you all.
Hello, not sure my email went through on your system so i'm sending it through mine. Just wanted to thank you for the popcorn and to wish everyone at APMEX a Merry Christmas and a happy new year! Thanks again
Thank you very much for the popcorn! All I have to do now is keep my wife out of it! Happy Holidays.
Just a note to say thank you for the popcorn present received in the mail. Wishing you all a happy holiday season. It's been a pleasure doing business with you all in 2008. Looking forward to a continued prosperous business year in 2009 as well.
Thanks for the popcorn! What a nice surprise. You are a great company! Merry Christmas and a Happy New Year!
APMEX, the can of popcorn was received today. Excellent, tasty! Thank you! Thank you also for your excellent service. I always know when I purchase from you all that the order will be handled with integrity. I have never regretted a single purchase from APMEX! And each has been perfect, as described, when received. Thanks! Happy Holidays!
I have always been impressed by your service and products. Then, the other day, I received a large package from you guys. Shaking the box I tell my girlfriend, I think they sent us the wrong order. With curiosity running wild, I open the box (I can always send it back if it's not right, right?). Behold...a huge tin filled with different popcorns and a thank you note from APMEX! I thought it was an awesome thing that you guys did that. Thank you! I hope everyone at APMEX is proud of their company and from my family to all of yours, Merry Christmas, we look forward to another great year with APMEX - our number one choice for precious metals!
Thanks to you and your elves for the popcorn!
Hello. Once again I received more quality than expected. i've had six orders since Sept. '08. They were all expertly packaged and delivered in a timely manner. What I ordered was as fine as possible, with prices lower than what most others ask for junk bullion. Wish you would sell some .999 silver you might melt, have a junk silver discount section. Anyway I am pleased and will certainly buy from you again soon.
Please keep up the good work. You are head and shoulders above the rest of the bullion dealers in inventory and reliability. My most pressing suggestion is that you please continue to keep offering a steady supply of 1000 oz. silver bars. The Penoles products are beautiful and impressive. I want to continue accumulating them as free cash becomes available. If Eagles and Maples and other high premium silver becomes unavailable please keep the 1000 oz. bars in stock so more silver can get in the hands of the people. Every American should be able to have some. A hearty thank you again.
Just to let you know, I received my order today (11-21), everything was in great shape, thank you for the speedy delivery!
Hey guys, I just wanted to say you are by far the best online coin company I have found. Great shipping and prices. One thing I wish you could do more often is whenever you get a special product in, if you could e-mail your customers information about it. I did get an e-mail about the Austrian Lunar Series coins and that's how I knew you guys had them in stock because I don't check them all the time. That e-mail you guys sent led to about a $1,100 dollar order from me. I like the fact how you guys always have stuff in stock. It keeps me looking on your web site. Also Michelle packages the products well. Everything comes in perfect condition. Well, I just wanted to leave you guys some feedback, so you know how the customer is feeling and should help your company in the long run. Thanks.
Hello! The coins have arrived safely. Thank you. If this was an eBay purchase, I would give you a positive, excellent comment, and 5 stars for everything. Have a GREAT day.
I sure do enjoy doing business with your organization. Great products!
As a novice precious metals coin investor I was especially leery of doing business with an on-line company, but after seeing a great amount of positive customer feedback and your name/logo at a couple of different local coin shows, I took the plunge. Although my orders are minor compared to most you receive, I have nothing but satisfaction to report back to APMEX and its team.</br>Your web site is certainly one of the best on the web, the arrangement of the products and the checkout indicators while completing the transaction are just as they should be...easy to comprehend and logical! I especially like how you organize a (coin's) denomination with the lowest priced unit first then work down to the more rare and officially graded ones.</br>Availability and expected ship dates have met and exceeded the posted dates and the packaging is great. Keep up the good work, I will have no problem recommending you to others interested in buying precious metals and/or coins who are having problems finding physical supplies locally in their coin shops, etc.
Thank you for the continued service. You folks are always great to work with.
You guys are truly the best. I have had seven transactions, since Labor Day weekend and every one has gone as smooth as silk. Thanks again. PS: I love it when I come home from work and there is a package sitting by my computer! It's like I am a five year old and it's Christmas morning!
APMEX, I wanted to let you know that out of all the companies I have used in the past for my bullion purchases, your company stands well above the rest. Kudos for a job well done in these hard times of locating bullion products for the small investor at a fair price. Thank you again.
Hello APMEX. Our orders arrived today, and this is just a note to let you know how pleased we are with the service from APMEX! Thank you so much. Hope to do business with you again in the future.
Thank you very much! I look forward to doing business with you in the future. Your customer service has been outstanding and is greatly appreciated.