APMEX Customer Testimonials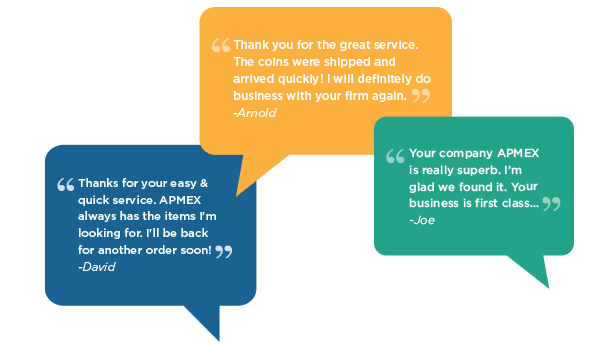 Thank you for the last order. It was prompt and packaged nicely. I will definitely be shopping more with you. Your prices and service are great!
I have bought and sold from several precious metal dealers and have researched almost all the dealers online and, without a doubt, APMEX tops the list. You can check yourself, but the buy and sell prices are the best. But more than that, their service is extraordinary. The people in customer service as well as the traders -- particularly Ms. Ladonna G. -- are always helpful and polite. My purchases from them have been top notch. And when APMEX purchased some silver and gold from me, the turnaround time was faster than I expected. Plus when I made a mistake and did not give them the proper information for a wire transfer, Ladonna immediately contacted me and the problem was corrected within minutes. You can trust APMEX -- it is the closest you will get to a honest handshake over the Internet, in my opinion. So I recommend them highly.
Just wanted to say how happy I am with the service you provide. I am a very small customer but I feel very important when I get the same great service that you provide to your large buyers. Thank you for all the wonderful service. Will continue to deal exclusively with you. Thanks again.
Order was just as you said. Coins look great. I am very satisfied with my order. I will be ordering more coins in the future. Thank you.
I just wanted to say your company is the best. I ordered two coins and the turnaround time was excellent and the coins were, without a doubt, top shelf. Thank you to everyone at APMEX! i've had some odd problems in the past with other companies and had all but given up ordering online, but APMEX has renewed my faith! There's no guessing who i'll be ordering from next time. Thanks!
Thanks for making my first bullion buying experience easy! I like the fact that I was sent updates anytime something had taken place with my order (i.e. order confirmation, payment, shipment). I will do more business with you in the future and have recommended you to my friends. Thanks again.
Hello there! First time visiting your web site and I love it. You have some great looking coins, and I hope to be doing business with you soon!
Just received the two rolls of dollars. Great coins. Will do business again. Thanks.
Fantastic! Now that is what I call great customer service. Super fast shipping. Thanks for the e-mail. Looking forward to receiving the coin.
Just wanted to tell you that the service has been impeccable lately. My last two orders arrived two days after they were shipped, and the coins were excellent! I particularly liked the 2001 signature series States Quarters set in deep cameo, what a wonderful way to collect these quarters. I want to get the rest of the series. Thanks for the great service and the great prices.
My order was placed on Monday morning, money order mailed Monday, shipment made on Wednesday, and order received on Friday. Great service. What more could you ask for?
Just wanted to say I love the new 'Top 40' section. It is very useful!
I received my order of first strike gold eagles today, and I am more than satisfied with their quality, your secure shipping and packing, and the integrity of your company! Whenever I get some more spending money, you can bet i'll be shopping with you! I only wish you accepted gold scrap - I got ripped off from another company who didn't do as they advertised. Anyway, a big thanks to you again!
When I received my first order of a Morgan Silver Dollar a couple of months ago, I thought I got lucky in receiving such a great key date coin at a great price. Well it happened again! This time I ordered a common date Morgan in MS67 and all I can say is the same way you guys described the coin 'wow!' Thanks!
Received my purchase of 2007 American Silver Eagles today. Of all the ones in my collection from over the years, every one of these are choice, high grade, beautiful coins. Thank you APMEX!
Thank you again for the best service on the web.
I received my shipment today and wanted to thank you so much. I realize it is probably one of your smaller orders, but this is my first and I am quite excited about it. I hope to be placing another order soon. Thanks for making my day.
I am new to the coin collecting hobby. Before I bought my first coin I did about two months shopping, comparing prices and reading many articles about coins. I have now bought several coins from APMEX and have not yet been disappointed. APMEX has the broadest array of coins to choose from and prices are just about the lowest anybody will find. I will continue to use APMEX as my primary source of silver coins.
Dear APMEX, I received the 4 PCGS certified Liberties over the weekend and I just wanted to thank you for quick and amicable resolution of this matter. Once again, I am thoroughly impressed with APMEX's level of customer service. I was a bit wary of dealing with an online broker when I first started buying from APMEX, but those fears have been completely put to rest over the past couple of years. In this day and age of Internet scam artists and shadowy sellers, I heartily recommend APMEX to anyone looking for the best price, best service and complete peace-of-mind when it comes to purchasing precious metals. Thanks again!
Thank you and your company. My order arrived in beautiful shape, nice bag, plenty sturdy. I will use you again for my next purchase. Thank you.
You did a very nice job of handling my sale of 500 oz. of silver bullion. Thank you. Well done! And I got the check several days before I expected. If you want a testimony or survey filled out, i'd be glad to do that and it would be favorable.