APMEX Customer Testimonials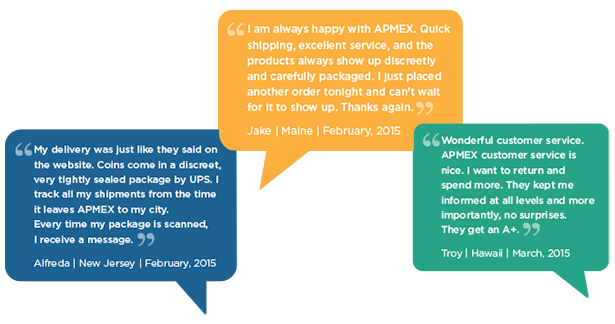 Thank you very much! I look forward to doing business with you in the future. Your customer service has been outstanding and is greatly appreciated.
APMEX, the shipment arrived yesterday in great shape. Thanks again for the outstanding service your company offers. I just saw the note on GIM about the upcoming Perth Mint coins and i'm looking forward to making a purchase of the same. Again, best wishes.
This was my first order from your company. I was very impressed with the ease of use of your web site. Sorry but I did not put the order number on my check that will be sent from the bank.
I wanted to email to express my amazement for the quick turnaround of the 100 oz. bars. We just received them a short time ago, and we were not expecting anything until sometime next week. I want to thank you and all your people and as well as to express that it is so refreshing to do business with APMEX. APMEX is a company that stands behind the product and its business model is one of a U.S. company. Should APMEX need a recommendation, feel free to contact me anytime.
Yeah! You have restored my faith in corporate America! Thanks for the fast response!
Wow! Your shipment arrived already! Thanks for the fantastically fast service. All the coins are mint and look beautiful!
Dear APMEX, I want to let you know I have been very happy with my orders that I have placed with you and will not hesitate to recommend your services to others. Actually I have already done that. Thanks.
I received my order today. Thank you. This was my first order with APMEX and I must say I am very pleased with the service, communications, shipping, and product. You likely gained a repeat customer. I now check your site often for items that interest me. Thanks again for an excellent transaction. You measured up to my standard of results - not excuses!
As always, fast service and great communication. Thanks again!
I just wanted to let you all know the great service you provide, with a full line of items, fast shipping and fair pricing, I have ordered around ten different times and never been disappointed. Thanks.
Dear APMEX, my goodness, I never got a chance to think about tracking my order. It arrived today safe and sound. I won't get a chance to examine it until the weekend but if the coins match your delivery, I am sure I shall be quite pleased and you can expect more orders in the future. Thank you very much.
Hi. I received my order on Wednesday 9/10/08. Thank you. Your service is excellent. I will buy from you again!
I have always liked the quality of product that I have received from APMEX, and now I find the customer service is up there with the best of them also. Thank you.
Just wanted to take a moment to let you know that I sincerely appreciate your customer service, quality, variety (although it seems to be shrinking) and shipping. Without these you'd be 'just another.' Thanks again.
Thank you for your quick shipment and quality coins for the price I paid. Your company is very fair on pricing and your shipments are extremely fast! The order came in very secure packaging, and the coins were protected perfectly. I have had a great time ordering and smile when receiving your products. Very fair and very honest. Keep up with the wholesale/spot deals. It's the best on the Internet! Thanks a ton!
I have only recently begun purchasing silver and just started ordering from your company. I could not be happier with your service. Your web site is laid out very nice, your product selection is the best I have found, and your delivery time is unreal! I am completely impressed! You have won me over as a customer. I have convinced a close friend to start ordering bullion from you, and together, we've just ordered our first gold maple leaf. Thank you so much!
Just received my order and wanted to say thanks. Not only are you timely but you make it awfully easy. I couldn't be more pleased. Thanks again.
I received my coin today and wanted to send a note. Thanks for the quick and professional resolution of my problem! I will not hesitate to buy from APMEX again and will highly recommend you to my friends. Thanks again for all your help!
I would like to take this opportunity to tell you what an asset Jana H. is to your team. We have completed many gold bullion transactions with your company. The last transaction we had, Jana was so very efficient, helpful and on top of the transaction at all times. We needed special attention on this order and she was there for us, as she has been in the past.</br>I own and have owned many businesses and I firmly believe that customer service is the backbone of the company, which also reflects on you as making super choices in your staff. Please give Jana the kudos she deserves. We are looking forward to a long business relationship with your company. Best Regards.
I thoroughly enjoy working with you folks. Thanks for the great customer service!
I just wanted to say thank you for being here. I am retired now and have time for my collection again. Thank you for being fast, courteous and efficient. I am able to find what I want easily and my orders are not large but you treat me like the 'big guys.' That means a lot. I wish you continued success in this business. Thank you again.