APMEX Customer Testimonials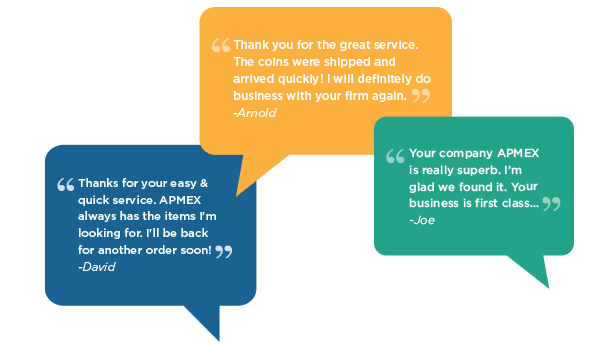 Great service and products at a reasonable price. I will be back.
I received my order in excellent condition. Very satisfied. Tried another supplier just to test their level of service. They don't hold a candle to your service and attention to a little bitty customer like me. Thank you very much. Future orders coming as my sole supplier.
This is my first time buying precious metals online. I looked at many sites before choosing yours. You have lots to chose from and have smaller selections for us with smaller wallets. Can't wait to receive my order. Thanks.
Received items today in good order. Best buy and great price for this Buff. Was worth the wait. Thank you for this opportunity.
By the way, you guys have been the best web site/store I have ever had to deal with! Thanks a bunch.
Thanks for the fast shipping and great service.
Hello from Arizona. I had to write to you to let you know just how very satisfied I am with your company. I have purchased from you in the past and just recently ordered a fairly large quantity of the graded Buffalo coins. I am so happy to purchase them at such a fair price. i'm anxiously looking forward to receiving them. Thank you very much for offering this opportunity to your customers. More people should discover your company, (for their own good). I am telling all of my family and friends about you and wish much success on this wonderful company. Thanks again and be assured that i'll be back
Thank you so much for the bag of 1000 dimes. I got way more in quality than expected. Also it seemed like it was an unsearched bag that I used to try to get on eBay until I learned there was no such thing on eBay as unsearched coins. You are my primary source for coins and supplies, both for my collecting and my coin store. Once again, thank you. You have always made me happy with my purchases.
Dear APMEX: I have made four large--and diverse--purchases from you, including bars, rounds and coins. I have been so delighted with your service, packaging and prices, that you can certainly count on seeing much more of my business. Keep up the great work!
I have purchased coins from you a few times throughout the past year, and I have always been 110% satisfied with the selection, prices, and service. I will continue to buy from you as long as you will continue to sell. Thanks for a great buying experience.
I recently submitted two orders for the new Buffalo Gold Coin and wanted to express my satisfaction. Having never used your service before I was a bit cautious especially since your price was so far below all of the other Home Shopping Show sites. Having learned of the coin on HSN (since I was a small child on the Atlantic City Boardwalk i've loved to watch hucksters ply their wares), I searched the Web using Google and waded through the replies until I came upon your site. Not only is your price excellent (my first order is now worth more than I paid minus shipping and insurance), but delivery to my door was only one day after your site said it was shipped. Thanks for your service. i'm sure i'll be back for more.
I just wanted to say thanks for the coins. I bought 20 of the 2006 Silver China Pandas and was so happy with the fast turnaround and look of the coins. I will be buying more and only from you guys in the future. You are the only company out there that keeps changing the prices to fit the market real time. The other guys just stay the same. I like that about you guys and will pass the word along. See you soon on the ordering of coins side.
I have received the Buffalo coin. Thanks. You've provided excellent service and are a pleasure to do business with.
I received my order and am very happy to do business with you. They are beautiful coins. Thank you.
Greetings. I just received my 1991 1 oz. Gold American Eagles - (PCGS MS-69) - Scarce Date - and am very pleased with the quality and beauty of this coin. Thank you very much. All the best.
I just received my order today and was extremely pleased at the short shipping time and quality packaging. I've always been hesitant about ordering precious metals site-unseen, but now I know for certain that APMEX.com is a quality distributor and a company I will use again.
I just wanted to say thank you for sending my Buffalo coin out so fast. I could not believe how fast you were with my order and how perfect my coin is. It was a pleasure to do business with you, and I look forward to doing business with you in the future.
Thank you so much for your excellent service! I was really pleased with every aspect of my order, from start to finish. Very fine work. Best wishes.
I love the diversity of product offered as well as the excellent prices and flexibility of paying. Keep up the great work and fantastic web site.
I recently made a silver purchase with you and would just like to say thanks for being a professional company that actually follows through and does what you say you're going to do. I paid by bank check, was able to clearly track the status of my order on your site, and received the package a little earlier than I expected. It was a pleasure dealing with APMEX. You have earned my business for all my future precious metal deals. Thanks again.
Thank you for your fast service on all my orders, especially the last one which arrived at least two days before expected after shipping. I will be placing more orders in the near future. Thanks again.