APMEX Customer Testimonials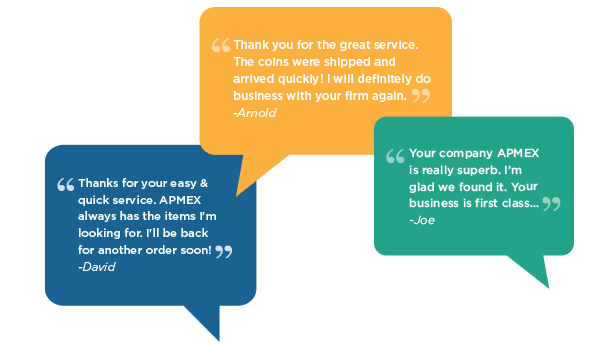 Just wanted to say I love the new 'Top 40' section. It is very useful!
I received my order of first strike gold eagles today, and I am more than satisfied with their quality, your secure shipping and packing, and the integrity of your company! Whenever I get some more spending money, you can bet i'll be shopping with you! I only wish you accepted gold scrap - I got ripped off from another company who didn't do as they advertised. Anyway, a big thanks to you again!
Received my purchase of 2007 American Silver Eagles today. Of all the ones in my collection from over the years, every one of these are choice, high grade, beautiful coins. Thank you APMEX!
Thank you again for the best service on the web.
When I received my first order of a Morgan Silver Dollar a couple of months ago, I thought I got lucky in receiving such a great key date coin at a great price. Well it happened again! This time I ordered a common date Morgan in MS67 and all I can say is the same way you guys described the coin 'wow!' Thanks!
I received my shipment today and wanted to thank you so much. I realize it is probably one of your smaller orders, but this is my first and I am quite excited about it. I hope to be placing another order soon. Thanks for making my day.
Thank you and your company. My order arrived in beautiful shape, nice bag, plenty sturdy. I will use you again for my next purchase. Thank you.
Dear APMEX, I received the 4 PCGS certified Liberties over the weekend and I just wanted to thank you for quick and amicable resolution of this matter. Once again, I am thoroughly impressed with APMEX's level of customer service. I was a bit wary of dealing with an online broker when I first started buying from APMEX, but those fears have been completely put to rest over the past couple of years. In this day and age of Internet scam artists and shadowy sellers, I heartily recommend APMEX to anyone looking for the best price, best service and complete peace-of-mind when it comes to purchasing precious metals. Thanks again!
I am new to the coin collecting hobby. Before I bought my first coin I did about two months shopping, comparing prices and reading many articles about coins. I have now bought several coins from APMEX and have not yet been disappointed. APMEX has the broadest array of coins to choose from and prices are just about the lowest anybody will find. I will continue to use APMEX as my primary source of silver coins.
You did a very nice job of handling my sale of 500 oz. of silver bullion. Thank you. Well done! And I got the check several days before I expected. If you want a testimony or survey filled out, i'd be glad to do that and it would be favorable.
Received my ef40 Morgan 1889cc and am very pleased. I can honestly tell you that I spent weeks seeking out this coin through Internet dealers, magazines, etc. and APMEX met my need. In fact, I had to return one unslabbed coin from another dealer because it wasn't as advertised. This PCGS coin was the absolute best certified coin available at this price and you had it. This is such a difficult coin to find at affordable prices. Someday I hope to upgrade to a higher grade of this coin and I will seek you out first. Thank you for such a great experience. Continued success!
I'm new to precious metals investment, and I took a long time to research where to purchase my silver. After all my research, I chose APMEX, especially due to the fact that you take orders completely online (I work at night and i'm not generally awake to receive a call from a sales rep). You also take credit card orders and sell relatively small amounts of your products for very competitive prices. Prices that certainly rival the other guys demanding much larger ($2,500 or so!) minimum orders! My order went through your system, I received confirmation e-mails the whole way through the order/payment processing/delivery process, and I received my order in much less time than you stated. In short, i'm very pleased with your product and service, and you can count on my future business. I will be recommending you to others! Thanks!
Just wanted to make a comment about your business. i've spent numerous hours searching the web for the various sites where I can purchase gold and silver products. Yours takes top honors by far. Keep up the good work!
I want to thank you for the Christmas gift. My wife, myself, and friends were impressed with the thoughtfulness of your company. i'm sure 2007 will allow plenty of opportunities for us to do more business. Thanks again to your entire staff! Merry Christmas. Happy New Year!
I just wanted to thank you for the super fast shipping and to let you know how pleased I was to receive my first order. i'm sure many more will follow (with your outstanding selection and amazing prices)! I have found an online site that is a pleasure to browse and purchase the very high quality products you offer. Thank you for the wonderful items and I will place my next order A.S.A.P.
Hello, I appreciate your professional demeanor. Everything happened as promised. It arrived today. Look forward to doing business again.
You guys are great! You have some of the best prices around. I have a great deal of buyers remorse, for I bought through another company before finding you. Thank you for keeping your prices reasonable!
My order arrived today and very timely I might add. I tried another source just once to test competitiveness and it was a disaster. You will have 100% of my orders in the future as you are one of the finest merchants that I have ever dealt with. Thank you very much.
I've placed several orders with you guys and just wanted to let you know how pleased I am with the service! Look forward to the next time. Thanks again.
I ordered on the 6th of Nov. Received it today Nov. 10th. Excellent! Super satisfied. Thank you and have a great weekend.
Just a word of thanks for your prompt service and quality coins. Your site is one of the best that I have had the pleasure of navigating and your prices are very reasonable.