APMEX Customer Testimonials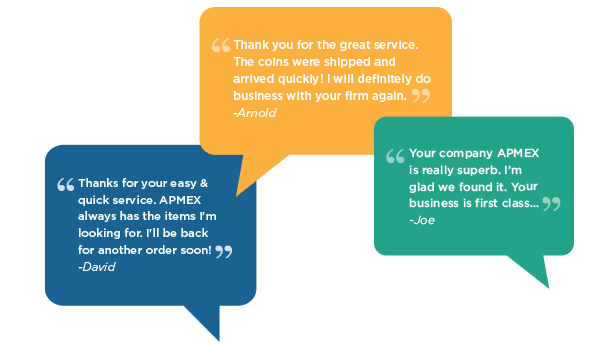 Thank you for your fast service on all my orders, especially the last one which arrived at least two days before expected after shipping. I will be placing more orders in the near future. Thanks again.
I just wanted to say thank you for such a wonderful trading experience with APMEX. As you might imagine, I was more than a bit nervous about sending over $10,000 worth of gold and silver to a complete stranger, and clear across the country from my home. Well, Ed at your office allayed my fears, and you guys handled this transaction quickly and efficiently. I got my check without any delays, and I'm one happy camper! Please feel free to allow others to view this message, and I will continue to refer you to anyone I may come across who is interested in trading precious metals and coins.
You have the most proficient and dependable shipping department that I have seen on the web. Keep up the good work.
You guys are the best. 5 Star business. Your people are professional, your system is state-of-the-art, amazing customer service, extremely high customer satisfaction. Keep up the great work. Can't help but recommend you to everyone I meet. A true touch of class.
Just placed my second order. I've now finished my date-set of 1/4 oz. Eagles with the last date I needed. Two weeks ago I found a coin I've wanted for two years at the best possible price with APMEX. Your orders and service are fast and record-keeping excellent! As a serious collector, I look for those things in a dealer, but find few. You've earned my business.
Dear sirs, I just wanted to state that I was very pleased with the order that I recently received. The order was packaged very neatly and securely, and my purchase price was the best I could find online. I look forward to continuing transactions with your fine company in the future. Thank you.
I just wanted to let you know that both of my orders arrived as promised and I am thrilled by your service! You made investing in precious metals easy for this newbie. I'm just sorry I waited so long to place my first order. Thanks for your help!
I placed an order last Sunday, March 5, and paid by credit card. I received the order yesterday March 11. I truly appreciate the outstanding service and will be making many more purchases in the future!
This is my third order from you guys in one week. Your service, speed and quality are terrific. Thank you so much. This is for my family, so you know how important it is. You do a good thing for people you serve, which is something you can genuinely feel good about.
Thank you for the timely shipping and excellent packing of your product. Everything I ordered arrived in perfect condition. I have to say, it always seems like a risk when ordering over the internet, however, you delivered. I will not hesitate to order from you guys again. By the way, I checked other precious metal dealers, some nearby, right in LA and they wanted $100.00+ per ounce over the daily spot market for palladium coins and they wouldn't even tell me what their (sell) price for gold was. They just wanted a check from me! These guys advertise on LA radio everyday and say they have the best investment packages, until you ask exactly what you are getting and for what price.
Gentlemen, I received my shipment this morning on time and exactly as ordered. As a first time buyer, your excellent shipping notices and order status updates gave me confidence in placing this order with you, and I wouldn't hesitate to recommend you. Thanks!