APMEX Customer Testimonials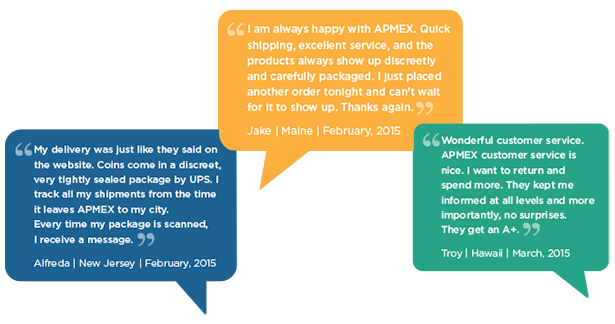 Recently, I received my silver order and couldn't be more pleased. Thank you for the super service on this order, as well as past ones.
Dear APMEX, my son and I are very happy with the coins we bought from you and we appreciate the Red Book. Thank you for the timely dispatching of our order. We have a very high regard for the way you run your railroad. Thank you again.
I had just placed my first order with your company and i've got nothing but good things to say! Although I have purchased PM bullion locally before, I was a bit leery of going through the internet. Even though the palladium bullion I ordered decreased quite a bit in value since I purchased, that's the nature of the beast, so to speak. You are a truly upstanding and outstanding business and I will continue to order more from you in future purchases! Thank you APMEX!
Dear Michelle and other company employees, I would like to take this opportunity to thank you for the outstanding service and products that you have provided for me. I have placed many orders, so please forgive me for not including all of your names. In the past, I have purchased silver American eagles and maple leafs. I have always been satisfied with your service, price and product quality. Today I received my MS64 $20 St. Guldens gold coin from you. The strike, luster, field quality and eye appeal are everything I had hoped for. You even managed to send me the year that I wanted. I am looking forward to receiving my next order from you. I really have no desire to do business with anyone else. Needless to say, I will be continuing to recommend you to all numismatists that I encounter. Thank you and have a great day!
I just received my first purchase from you guys and I was very satisfied. I looked around at other sites for buying gold/silver or whatever and most require you spend thousands of dollars or large amounts. I think one of the best features you guys have is that you have a low minimum purchase so even the little guys (such as myself) who don't spend large amounts of money can take advantage of your services. I have already placed another order through you guys and hope to do more business through you. It's also cool that you take debit cards as well. Most places don't, which in my opinion costs them business just like forcing high minimum purchases. i'm glad I stumbled onto this site first. Keep up the good work.
I just have to say that I am impressed with 1. The speed which you have processed my order. 2. The way the purchasing process was handled. 3. The way items are displayed for viewing so the customer can have an accurate description of the items they are purchasing. 4. And even down to the details of informing me by e-mail that my order has shipped. I have not yet received the items, but I am extremely impressed already with your service and will probably be doing business again with you in the future. Keep up the high quality customer service and you will be in business for many years to come. Thank you.
I received my order today and i'm very happy with it. A record fast delivery! Thank you very much.
My first shipment was very well packaged. The items were as described. As a small investor, i'm very well pleased with your company. I will be ordering again soon. The ease of using my Visa card is great! Thank you.
Thank you for the quick response in the manner in how my order was processed and shipped. If this is how you respond to all orders, I plan to make more as time and funds will allow. Again, I thank you.
As a new customer, I would just like to say that i'm impressed with your company. i've placed two silver bullion orders and each one was processed and delivered in a very timely manner. Your pricing is very competitive compared to other sellers. Just wanted to know that I appreciate your service. As a businessman, I always hear about when things go wrong, seldom when they go right! Thanks!
I just wanted to thank you for the coins and very quick shipping! Your prices are better than fair! I have added your site to my favorites and plan to buy more. Thank you!
Hi! Once again, you make it a pleasure to do business with you. I have nothing to say but good things about your company. You have, in my opinion, by far the best coin store on the Internet, hands down. You run a very good business and have great communication. Your products are perfect. Thanks again.
Hello, I just wanted to take a minute and thank you for the quick shipment and a great set of coins. It has been a pleasure doing business with your company and I will keep checking your web site for other coins I am looking for.
Hello! Thank you. I can't say enough nice things about you people. I recommend you to everybody I know. I wish everybody was as responsible and caring as you were about each order - big or small. i'm sure our orders are considered small, but they're growing and with help from people like yourselves, faster than we had even hoped. Thanks again.
Thank you for everything. I love the first buy I bought from you.
I am very pleased with everything that I have bought from this company. Fast shipping and the best price of anyone and the quality is the best. You're the only one I will buy from. Thank you and I will be ordering more.
Thank you, I love doing business with you. Never a hitch, always very smooth and fast. Perfect. Thanks!
Dear APMEX, thank you for the delicious popcorn. I am going to enjoy it with a movie tonight. I must admit you are my favorite company to buy gold from -- reliable, timely, good communication. I hope every one at APMEX has a nice holiday!
Hey APMEX, thanks for the popcorn! My wife and I ate half of each flavor the first night received. Merry Christmas and Happy New Year to all of you. Peace.
Hello APMEX, just wanted to thank you very much for all the notification. I got the the box of my order today. It was packed very well. I like your web site and all kind of varieties of the products you offer. I shall definitely continue being a loyal customer of yours. Thanks again and best regards.