APMEX Customer Testimonials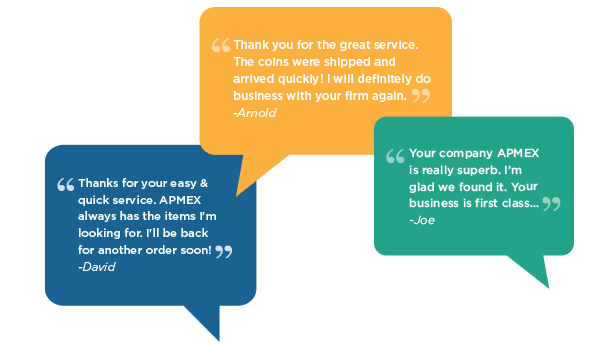 These was my fourth purchase never had any problems but this time the package was lost in the mail !! When called customer service was on top the problem right away with. In week ther order was re shipped after I signed 2 document s !! Thanks to Ashley kurien and the customer service team were promptly and courteous Best place to buy precious metals!!
Very good product. Very excellent service.
I have searched many different precious metal dealers and I keep coming back to APMEX because there are no surprises. It is what they say it is. Speedy, honest and reliable.
Very pleased with my most recent order! The coins were perfect and the delivery speed was unbelievable! You have me locked in as a customer!
Fast shipping & great selection thank you!
Thank you, my order arrived today in perfect condition. Thanks for a flawless shipment - # 34 in a row without a problem. Keep up the great work.
I am very pleased with the purchase, service, and quality of the merchandise.
Too good and wish I had ordered two coins. I will be ordering more in the future. Everything promised was delivered. Thanks
I just received my order and I would like to thank APMEX for delivering such beautiful coins. I also appreciate the fast service. You guys will definitely be hearing from me very soon. Thank you APMEX.
Your newly designed website and its features are absolutely amazing! Your website makes searching and browsing simple and easy with a click of the mouse. You are able to magnify the smallest of items and look at them close up as if you were right in the showroom! Now I can track all my purchases with an exact breakdown for each precious metal and their market values in one convenient place. This is an absolutely amazing tool to say the least! You did a phenomenal job to your website..Keep up the great work APMEX! Looking forward to doing business with you for many years to come!
Honest seller and fast shipments. Will buy from again. Highly recommend.
Great site - easy to use. Great customer service and I've always received my orders fast!
I have made several purchases from APMEX and I always receive fast service along with product that is second to no other. I highly recommend APMEX to anyone that appreciates only the best in service and product. I also appreciate that my product is sent with insurance, and my signature is required at time of delivery. THANKS APMEX!
Just placed my order for the 1st 2013 America The Beautiful coin. I especially like this one as my sister and I went on vacation there and stayed at the White Mountain Inn.
Received my order today. Everything was outstanding!
FAST! QUALITY! A+++ SELLER!
I just received my order of Kookaburra coin and am very pleased. I like birds and am glad you offered them for sale. The bird is very lovely. Thank you. Sincerely A happy customer.
I purchased some silver Eagles from you guys, and they arrived quickly, and were beautiful as well. The service was top-notch. I plan to buy more precious metals from APMEX in the future!
Your service has been incredible.  I recently tried another company because their prices were a little better but found that their service was lacking.  Although money was immediately wired to them, they waited weeks to ship as compared to your company which on my last order shipped the next day.  Also the materials were well packed and of a quality that has consistently exceeded my expectations.  Expect another order from me soon.  Possibly this weekend.
I have an account and I've made several purchases. I am fairly new to the coin collecting hobby. There are many people and other websites out there that are always looking to rip people off, not APMEX. APMEX is the only place I trust and the absolute only place I make purchases from. Thank you for the great customer service and honesty, I appreciate it. Last week I thought I was speaking to the US Mint, however being new to this I didn't realize I was actually speaking to a salesman from a competitor of yours. The salesman tried to sell me a set of Chinese Pandas (first Strikes) for over $10,000. Luckily I caught on and cancelled it quickly, and then purchased myself one Gold Panda from APMEX. Thanks again for the great service.