APMEX Customer Testimonials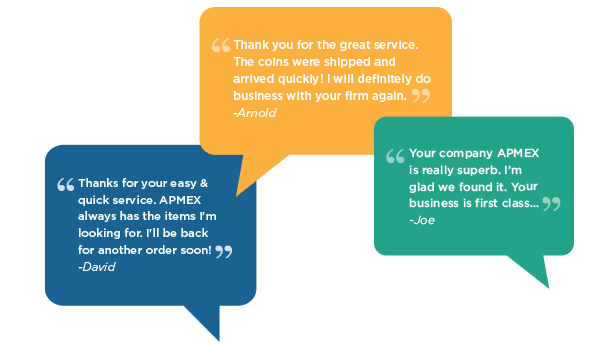 I just received my first order from APMEX: Creating Christmas ornaments for grandchildren. The shipment arrived quickly, well packaged, and the coins far surpassed my quality expectations. I will definitely buy more American Eagles from you in the future. Thank You!
I was very satisfied with my purchase. I placed an order on Sunday, paid for my item on Monday with a Bank wire and received it on Thursday. I was very impressed on the fact that I didn't have to wait for 30 days to receive my Gold. Your company provides an excellent service! I will continue my business here at APMEX. Happy Holidays!
APMEX has proven to be the most professional, efficient, and caring of any precious metals firm that I have had dealings with in Gold and Silver. This is from a platinum member of many years who professionally writes for major coin publications since 1978 and regularly invests in metals. One cannot go wrong with APMEX. Bravo!
I'm concerned about the American economy so I decided to purchase precious metals as a hedge against inflation and the potential collapse of the dollar. My first order was easy and delightful. All my bars and coins were brand new and it took only 4 days to receive them after I sent the bank wire. Thank you for being polite and efficient.
Being my first time buying precious metals and the finality once I placed my order, I was quite nervous. Everything went smoothly and I am very pleased with the transaction and coins I received. I have come to understand why the ordering process is more involved than with everyday products, and why cancellation involves extra charges based on the market. I am eager to buy coins here again in the future.
Fast, polite and accurate service without pressure. Very customer oriented, and their web pages are easy to read, with prices up front. We will be back!
Wow! You folks will have all my business from now on. The last company I purchased Precious Metals from made me wait 9 weeks for delivery. The delay made me nervous. With APMEX my Maple Leafs were in my hand in less than a week. What a great service. Thanks.
Just want to thank the APMEX team for once again making another purchase worry free. Being a customer for two years has been an absolute pleasure. Thank you to all that work so hard to care for every customer regardless of the size of their purchases. From my first small order to my recent silver eagle monster box acquisition, I have been treated as the most important client in the world.
I was very satisfied and will order from APMEX again and again.
What makes APMEX.com a special and unique seller of precious investment metals is that they inform the customer about their commodities and list the prices of all of them. That is so beneficial to the buyer who needs to know. So far, our research has determined that APMEX.com has the best combination information, prices and services which stated in writing and upfront on their website.
Thank you for the efficiency of your service.
I want to thank all the employees that were involved in my order. You people are 1st class. APMEX has never failed to deliver large and small orders.
I received my first order today. I am very satisfied with the quality service. Excellent communications throughout the delivery.
I want to thank you very much for the coins that you guys sent me. If you guys had a feedback page I would gladly say that you are the best coin sellers of all. Your service is fast and efficient.
I received my order today. Right on time, accurate quantities, and very well packaged. I have used other metal dealers in the past. APMEX is where I will stay from now on.
I have placed a few orders in the past months and I am extremely satisfied with APMEX. I shopped a few online stores and found your selection, support, and shipping to be the best. Thank you for being a trusted shop for years to come.
I am very pleased! No issues, no problems, just fast smooth service. The coins were just as advertised if not better. Consider me a VERY satisfied customer!
Thank you again for the assistance and quality products. I merely wanted the Management Team at APMEX to know that they have a knowledgeable and dedicated individuals in their ranks. We look forward to doing more business in the future.
I received my first order in gold and silver a couple days ago. I am very impressed with the condition and quality of the coins and bars. This was a first time purchase and I am very pleased with the advisor who helped us. He answered our questions without any pressure to buy. I have since made additional purchases and will continue to use APMEX for our precious metals purchases.
Your service and products are absolutely SUPERB! Thanks very much!
This is my first order and I will recommend APMEX for future orders! Very pleased!