APMEX Customer Testimonials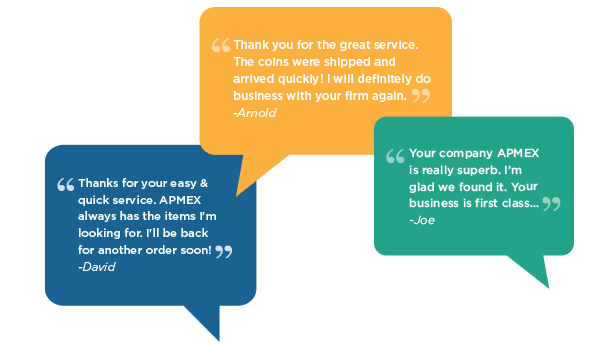 I have an account and I've made several purchases. I am fairly new to the coin collecting hobby. There are many people and other websites out there that are always looking to rip people off, not APMEX. APMEX is the only place I trust and the absolute only place I make purchases from. Thank you for the great customer service and honesty, I appreciate it. Last week I thought I was speaking to the US Mint, however being new to this I didn't realize I was actually speaking to a salesman from a competitor of yours. The salesman tried to sell me a set of Chinese Pandas (first Strikes) for over $10,000. Luckily I caught on and cancelled it quickly, and then purchased myself one Gold Panda from APMEX. Thanks again for the great service.
Got an order in from y'all last night thanks for the great service hands down the best there is out there
Great web site for purchasing precious metals
APMEX is hands down the best precious metal dealer I have ever purchased from. Your international division especially is just full of amazing agents, so helpful and friendly.
Order from them often and I have never been disappointed, great service and product.
Just wanted to say how pleased I am with your service. I haven't had any problems with any orders. Also, my orders have been delivered in a very short time. Thank you. Thought the company would like to hear some positive feedback.
While my orders might be smaller than some you have always gave me great service and the products are always great. I am anxious to receive my next order of the Morgan 1oz bars. You are my one and only source I will use. Thanks to all the APMEX team. Sincerely Ben J.
I have been an APMEX customer for almost a year.  At the age of 21 I plan on purchasing metals my entire life as long as it is available.  A shipment got lost and my silver wasn't delivered by USPS.  Your rep Lisa Capistrano handled the situation with great professionalism, and went above and beyond to help with my situation.  She personally kept me updated and was responsive at all times to my requests.  I am now a lifelong customer thanks to her work.       
Received my order. Thank you for the fast shipping and good product. We will be buying a lot more. Again thank you. Keep up the good work.
Wow, I just wanted to say thank you for the prompt delivery. Fantastic. Thank you. I wish I had more money. I would buy much more. Carry on.
Great place I've been buying from here for a couple of years now!!!!
Yes, I was impressed with your efficiency, regarding my last purchase. Looking forward to our next transaction soon.
I recently tried another company to compare their service against yours.  Although the prices were marginally better, they held my money for a crazy amount of time before shipping.
This company rocks! The best company I have dealt with in a long time: the best price and great reliability. Keep it up! I'll never shop anywhere else.
Great company, looking forward to more smooth transactions. Thanks!
I have been very pleased with the items I have purchased from APMEX. They were even more than I had expected. The prices were great also and delivery very prompt.
I just received the 2012 NIUE silver Dragon in Egg Case and also the 2013 NIUE silver Snake in Egg Case. Beautiful examples of the quality of the New Zealand mint. I gave them as gifts. Perfect for Easter since they came in an EGG case. Great collectibles from APMEX!
My order arrived today as promised. As usual excellent service as has been for a number of years and a lot of coins. Both to purchase and sell.
Just received the latest of the two dozen or so transactions I've conducted with APMEX during the last few years. As expected, what I ordered arrive on time, and in perfect order. It seems no matter how large or small an order is, each one is treated the same way: professionally and efficiently. You guys establish the bar with regards to excellence and customer service. Thanks.
I loved everything that I received from you! And the personal care I received was also great I will be ordering again soon.
Just wanted to say thank you for the great service. It's hard to come by these days, and I really appreciate the service and speedy completion of my order. Keep it up!