APMEX Customer Testimonials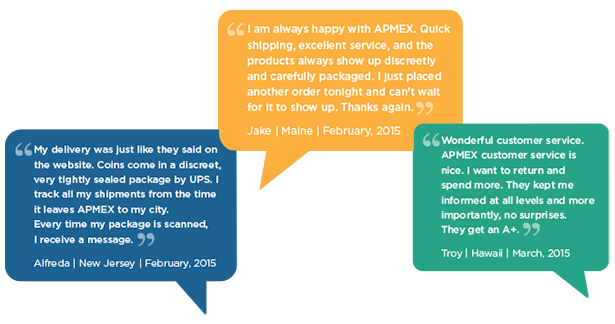 I don't know who picked these coins, BUT I want him to personally pick my coins from now on, Absolutely, Outrageous, Stupendous coins!!!!! I am very serious I want to personally thank him or her for having such a great EYE for this job.
I was used to waiting almost 30 days for (competitor) to fulfill my bullion orders. I was astonished that APMEX had the metals in my hands the same week that I placed the order!
Compared to other sources I have used, APMEX order handling and delivery was far superior…..Other sources I will not use again state "in-stock" but when the order is confirmed they are back ordered. Thanks for your customer service.
I had previously purchased my silver bullion from another company but this time I decided to try APMEX. What a pleasant surprise to receive my order in less than a week. Thanks for the outstanding service (and the ability to purchase directly on line without having to endure a sales pitch over the phone).
Thank you for your quick response! You guys have always been the best!! One time I ordered a coins with you and it was in my hand 2 days later! Thanks again.
Thank you so much for your understanding and your help in this matter. This is yet another example of the great customer service provided by APMEX.
Realistically, the nature of the business is that all dealers are going to be within a few pennies of each other. But the level of service I received from you and APMEX is night and day! Nobody even comes close to your level of service. As I mentioned, my first struggle was just to find a company that would let me get past the 800 number agent and speak with somebody with authority. The only place I was able to do that without a real fight was APMEX.
just wanted to tell you that the phone order I placed with you just a few minutes ago was the most amazing experience! You were so efficient and helpful.
You guys are the real deal………..I am a very loyal type person and have been with you for a long time. You can expect me to be with you for a long time more. You are my only PM (precious metals) dealer. I like it like this.
I appreciate your help and I enjoy the service I get from APMEX. People like you make the company great. Thanks again.
Very impressed with secondary market, requested poured bar and that's exactly what I got. You know they don't have to go the extra mile but that is what makes me a frequent customer.
APMEX does what it says it does so that's why you have my loyalty.
I just assumed that APMEX was in partnership with Jimmy Johns and that's how you guys get your shipping done so fast.
Thank you so much. You really care about your customers.
APMEX is the most honorable company I have had the honor to deal with, the business world could and should follow your lead, it is impeccable. Thank you for the great service and yes I trust APMEX and will only buy from your company!!!
Once again thank you for your excellent assistance and upholding the outstanding reputation APMEX is known for throughout the numismatic community.
I don't want to take up a lot of your time, but if you would, please share my comments with your staff ~ they are simply the most responsive and timely group I've dealt with in the online ordering aspect of consumer business. Thank you very much and I look forward to continuing my affiliation with APMEX in the future…..
Just wanted to reach out and say a huge THANK YOU!! for your help in our employee award presentation. We presented our four 25 year(+) employees with their gold bars on Wednesday of this week and they were absolutely taken aback. It was so fun to be able to do this for them, and I could not have done it without you and your guidance. So, thanks again!! I'll send you a picture once I get one!!
Please tell your people in order processing and shipping that their extra efforts (selecting product for them that was in "excellent" condition) are very much appreciated. Jennifer's note for them to send your best was noted and appreciated. We realize that your people always ship the best, it's just nice knowing that someone is being extra careful…..
This was my first purchase in precious metals and because of your help I am now a life long APMEX customer and I plan on making more purchases in the future.
Very easy to use system to order coins. VERY FAST SHIPMENT TIME. Prices are fair comparing to other coin sites. VERY SATISFIED WITH APMEX.