APMEX Customer Testimonials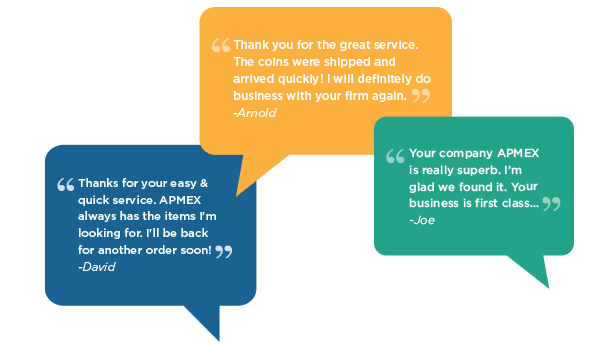 Shipment received, fast and quick service, thank you. I love the 10gram that I ordered. Very beautiful. Looking forward to order every month. Thank you again
I have placed three orders with your company in the last few weeks, all of my orders have been received with in three days. Apmex has good selection of products. Both times i have called your company, my phone calls where answered in a timely manor and the staff was very helpful. And i love the fact that the web site shows all my orders and the current value.
You Guys do an outstanding Job. Thank you.
Just a short note, I've been dealing with you for several years your products are excellent customer service top shelf, packaging delivery top notch, and a easy fun website to look at.
It took myself, 2 neighbours and a crowbar to open the parcel!! SUPERB AND SAFE package. My sincere thanks for your very prompt delivery and the care you take with coins. Plan on seeing me again soon and OFTEN.
YAAAAHOOOOO!! THANK YOU APMEX! YOURE THE BEST!
Everything arrived in perfect order!!!! Thank you so much for the prompt delivery in time for my trip for the Holidays…I look forward to additional investment purchases after the first of the year!!!!
Thank you for your service, I believe I received my silver purchase 3 days after I ordered them, possibly 2 days. Unbelievable!. I have never received an order so quickly. Most companies take 3 to 4 weeks. I will purchase only from your company in the future. You have proven to be second to none!
I want to commend you on running a world-class operation. Each person to whom I have spoken about my orders has been professional, knowledgable and helpful.
Thank you for the great service. The coins were shipped and arrived quickly! I will definitely do business with your firm again.
You guys are great. Nobody compares and nobody ships as fast!!!
I am VERY satisfied with the product and the super fast shipping! My first purchase from APMEX was an extremely great one! Thank you.
Your packaging seems to improve every shipment. Thanks
Thanks for you easy and quick service. APMEX always has the items I'm looking for. I'll be back for another order soon !
Product arrived - excellent. APMEX did a wonderful job....
Was so happy with my first purchase from APMEX that I could not resist a second (and likely a third and a fourth to come).
I just wanted to say thanks so much for finally streamlining your purchasing procedures! Your acceptance of AMEX, instant approval and lighting fast shipping has made this buying experience head and shoulders above past experiences. No more waiting 5 weeks for my gold! Thank you so much,
Just got to say, love you guys. Fast service & helping me store my wealth through precious metals one pay check at a time. Peace to you all.
All purchases exceeded my expectations, I will be shopping with Apmex in the future. Thank you for being such a good investment supporter of precious metals.
I have dealt with APMEX for several years. I find their services competitive & completely trustworthy. I'm drawn more & more to their prompt shipping & accuracy of the descriptions listed, for those units that I buy. It's an uncommon set of traits in a 'common market'. Continue with the great work.
The BEST experience I have ever had buying coins on the Internet in fact BEST experience buying through the Internet. From start to the delivery was .99999. Thank you all for making this a transaction I trusted in.