APMEX Customer Testimonials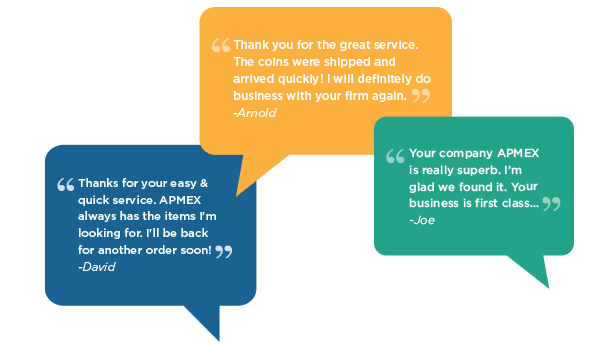 Just wanted to say thank you for the great service. It's hard to come by these days, and I really appreciate the service and speedy completion of my order. Keep it up!
I received my order 1 day early and in excellent condition. Thank you for your prompt delivery. I'm looking forward to ordering from you again.
I just received my American Eagles and Canadian Maple Leaf coins. I trust APMEX more than my local coin dealer who I know personally. Only APMEX shows great care in shipping and quality customer trusted service.
Just had to let you guys know I received my 2013 MS70 Silver Eagles, and I was blown away. They look amazing, better than the image online. I've purchased other items from you guys in the past and I'll keep coming back for more. Thanks.
I stumbled into your site a couple weeks ago. I didn't know you existed. Great site, everything is up front. I got my order in a third of the time as the "left coast guys" and in perfect shape. Wish I could say as much for them. They're history. Thanks again.
APMEX is the best trader of precious metals I have ever seen. I have recommended APMEX to four friends.
This to let you know...excellent service....thanks
This was my first time buying precious metals. I bought two 1oz 0.999 silver bars just to start out with. I plan on increasing my purchases and expand into other precious metals such as Gold. It was easy to buy/order and it was shipped quickly. They arrived in a generic box so it's not obvious what's inside. They were encased in a clear plastic sheath which I liked because it keeps them in mint condition. I am very satisfied and plan on this simply being the start of a nice portfolio of precious metals for my retirement or if the American market crashes.
I was very satisfied with my purchase. I placed an order on Sunday, paid for my item on Monday with a Bank wire and received it on Thursday. I was very impressed on the fact that I didn't have to wait for 30 days to receive my Gold. Your company provides an excellent service! I will continue my business here at APMEX. Happy Holidays!
I just received my first order from APMEX: Creating Christmas ornaments for grandchildren. The shipment arrived quickly, well packaged, and the coins far surpassed my quality expectations. I will definitely buy more American Eagles from you in the future. Thank You!
I received my 1st order today! Words cannot describe how impressed I am with your company! The feeling of purchasing something that will appreciate in value over time, is a great feeling I rarely have the privilege of experiencing. I am truly grateful that companies like APMEX exist today, and perform exceptional customer service to their customers. Thank you APMEX! I am very excited about future orders from your company.
Being my first time buying precious metals and the finality once I placed my order, I was quite nervous. Everything went smoothly and I am very pleased with the transaction and coins I received. I have come to understand why the ordering process is more involved than with everyday products, and why cancellation involves extra charges based on the market. I am eager to buy coins here again in the future.
APMEX has proven to be the most professional, efficient, and caring of any precious metals firm that I have had dealings with in Gold and Silver. This is from a platinum member of many years who professionally writes for major coin publications since 1978 and regularly invests in metals. One cannot go wrong with APMEX. Bravo!
I'm concerned about the American economy so I decided to purchase precious metals as a hedge against inflation and the potential collapse of the dollar. My first order was easy and delightful. All my bars and coins were brand new and it took only 4 days to receive them after I sent the bank wire. Thank you for being polite and efficient.
Fast, polite and accurate service without pressure. Very customer oriented, and their web pages are easy to read, with prices up front. We will be back!
Wow! You folks will have all my business from now on. The last company I purchased Precious Metals from made me wait 9 weeks for delivery. The delay made me nervous. With APMEX my Maple Leafs were in my hand in less than a week. What a great service. Thanks.
I was very satisfied and will order from APMEX again and again.
Just want to thank the APMEX team for once again making another purchase worry free. Being a customer for two years has been an absolute pleasure. Thank you to all that work so hard to care for every customer regardless of the size of their purchases. From my first small order to my recent silver eagle monster box acquisition, I have been treated as the most important client in the world.
Thank you for the efficiency of your service.
What makes APMEX.com a special and unique seller of precious investment metals is that they inform the customer about their commodities and list the prices of all of them. That is so beneficial to the buyer who needs to know. So far, our research has determined that APMEX.com has the best combination information, prices and services which stated in writing and upfront on their website.
I want to thank all the employees that were involved in my order. You people are 1st class. APMEX has never failed to deliver large and small orders.