APMEX Customer Testimonials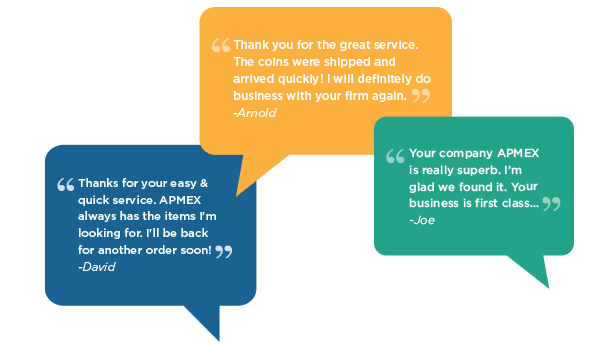 I just placed my first order ever with APMEX. My order was placed on Monday and I received my coin on Friday. Fast shipping and friendly service. Thank you APMEX employees.
I recently purchased a gold buffalo from APMEX. The deal was part trade and part cash. It has been such a pleasure making this deal with APMEX. Not my 1st experience dealing with APMEX and I look forward to more in the future .They are VERY professional and of have the best prices I have found. Thanks APMEX.
I am simply amazed with your speed of delivery. I ordered a few gift items on a Friday and received them the following Monday. Absolutely incredible!
I just received my five 1 troy oz silver APMEX bars. They are beautiful and were packed and shipped with care. Even arrived faster than expected (I paid by check). Thx.
As a first time investor, I was unsure of where to go. I then found APMEX, where the selection is phenomenal!
As a first time customer, I was, as you might understand, nervous about dealing with a company I was not familiar with. After placing my order, I received great communication and follow-up from APMEX. My order was delivered exactly when promised, exactly as ordered. It was securely packaged and delivered. There will no doubt be future orders for me. Thank you.
I have received my third shipment from APMEX. APMEX has proven itself to be reliable and efficient as a dealer in excellent quality precious metals. Thank you so much for your diligence and professional standards!
Just received the two 1991 American Eagles I ordered from you guy's and they're amazing. This was my first order ever, and I plan on ordering more in the near future. Thanks for the excellent coins.
I just wanted to take a moment of you time to thank you for the fantastic service that you have shown to me. I am new to the precious metals game. Your site and you staff are very kind and helpful. Your web site is very easy to use and super informative. I will be buying more real soon. Thank you all.
I just wanted to say I think everyone there is doing a great job. I have not been ordering very long or very large amounts. I asked if they could put the coins in the coin holders for me and they do every time. Great Service. This is the only place I have ever ordered from and with this service the only one I will ever order from. Thanks again.
I've only been dealing with you guys for a few months now and just want to say you are awesome. You have outstanding customer service and have been nothing but helpful and all transactions have been fast, simple, and easy.Thank You!
Received my order. It was very well packaged and I was able to track the order so I knew when it was coming. Will use APMEX next time I order silver or gold.
I want to let you know how pleased I am with your product and customer service. Not only you provide great product for amazing price, but you also do it in a very professional manner with outstanding customer service.
I just received my first order from APMEX. The process from ordering, shipping and receiving was quick, easy and faultless. The quality of APMEX products is VERY acceptable. I look forward to placing future orders!
I received my second order from you yesterday. Once again it was packed well and arrived quickly. Thank you for the consistency in delivering quality products with outstanding customer service!
When it comes to metals shopping, there is nowhere to go other than APMEX! With fast, convenient access to the best selection you will get anywhere, you would have to be crazy to shop anywhere else. Thanks, APMEX, for being a top of the line metals dealer!
When you compare APMEX vs other Precious Metals companies, There is no comparison. At APMEX I am always treated like I'm the only customer, my orders are always delivered in way less than 10 days and are top grade items. Thanks.
I just wanted to send over a quick thank you for my recent order. I've made purchases of varying sizes for years, and have been impressed with your customer service. But in this case, when purchasing a small quantity of random year coins, your staff went above and beyond to provide me with a variety of types of coins, per my request. Thank you!!!
I'm very happy with my first experience with APMEX. My purchase arrived in a timely manner, was packed professionally and the quality of the product superb. My transaction was simple and easy. I would purchase again. Thanks APMEX for your 5-STAR service.
Best service I've ever had, I received the coin 2 days after it shipped. I had messed up the address on my order and APMEX worked with me and made it work, the service was great and the product was even better. I am very happy with everything. Thanks APMEX!
Over the past year I have ordered a few times from AMPEX. Some orders were small some were not. Always received excellent service and products were as advertised.