APMEX Customer Testimonials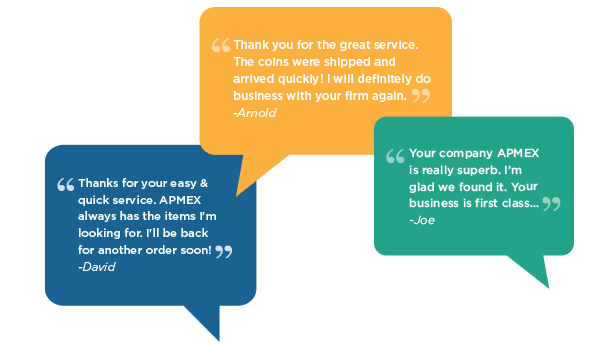 I want to thank all the employees that were involved in my order. You people are 1st class. APMEX has never failed to deliver large and small orders.
I want to thank you very much for the coins that you guys sent me. If you guys had a feedback page I would gladly say that you are the best coin sellers of all. Your service is fast and efficient.
I received my first order today. I am very satisfied with the quality service. Excellent communications throughout the delivery.
I received my order today. Right on time, accurate quantities, and very well packaged. I have used other metal dealers in the past. APMEX is where I will stay from now on.
I have placed a few orders in the past months and I am extremely satisfied with APMEX. I shopped a few online stores and found your selection, support, and shipping to be the best. Thank you for being a trusted shop for years to come.
I am very pleased! No issues, no problems, just fast smooth service. The coins were just as advertised if not better. Consider me a VERY satisfied customer!
Thank you again for the assistance and quality products. I merely wanted the Management Team at APMEX to know that they have a knowledgeable and dedicated individuals in their ranks. We look forward to doing more business in the future.
I received my first order in gold and silver a couple days ago. I am very impressed with the condition and quality of the coins and bars. This was a first time purchase and I am very pleased with the advisor who helped us. He answered our questions without any pressure to buy. I have since made additional purchases and will continue to use APMEX for our precious metals purchases.
Your service and products are absolutely SUPERB! Thanks very much!
This is my first order and I will recommend APMEX for future orders! Very pleased!
Thank you again for fast and great service.
Your prompt service and high quality products are very impressive! I shall be ordering from you again, and I thank you as a very satisfied customer!
Thank you for your service and prompt and professional service. Coins were beautiful.
Thank you very much APMEX. Wow! Your customer service is excellent. I received everything that I ordered. Also the precious metals were beautiful and in superb condition, just like on your website. I will be doing more business with you in the near future.
I've made several purchases through APMEX and they delivered on time every time. I haven't found a better more trustworthy dealer to buy from.
I recently received one item that was damaged during shipping. After a few days, I received a replacement for the damaged item. APMEX communicated well with me and made this a smooth process. Thank You!
I just bought 10oz of silver about 10 days ago i first looked at all your information a the website then called to ask a few question and the man that helped me knew his stuff and never once said let me see or make sure he knew what the answer was so i put a small order in only 10oz and you kept me informed by via e-mail the whole time where my order was rite up to the day i had it in my hand i will be making a lot more orders thank you again
Your web page is very user friendly. I was able to find the gold coin I was looking for. The purchase process was very fast and easy. I will look forward to receive your news about the shipment.
I just wanted to write and let you know that I got my third shipment in from APMEX and I am very pleased with the service and commitment your company has shown me so far. I have used other suppliers before, which has been ok, but you have gone the extra mile to make sure I was happy with my purchase. APMEX will be my #1 source for all my needs for now on. Keep up the great work and again thanks for your service.
I received my first orders from APMEX and I was very pleased! The orders arrived on time and were well packaged. I will buy from you again because you are very customer friendly. This is how every business should be run!!!
Thank YOU! Received my coin today! All told it took 6 days from order to receipt.