As one of the world's largest dealers in Precious Metals, APMEX puts thousands of Gold and Silver products in your hands. But we do more than just sell products. We help you understand what you're buying, answer your questions truthfully and keep prices transparent and fair. At APMEX, we only sell tangible investment products that you can hold in your hand. And the integrity we bring to the way we do business is every bit as tangible.
INVESTMENTS YOU HOLD FROM A COMPANY YOU TRUST
More than 5,000 products for investors and collectors, including…
Quality is built into the way we do business.
If you want to be sure that the Precious Metals you receive are of the highest quality, order from APMEX. Every product you buy from us is exactly what we say it is. We ensure quality by getting products from…
Leading Mints

The vast majority of the bullion products we sell come directly from government or private mints.

Grading Services

Our relationships with NGC and PCGS ensure a ready supply of certified coins for collectors.

Product Purchases

When we buy products from dealers and individuals, our expert staff inspects every piece. Our proprietary authentication process makes sure every item that comes in is exactly what the seller says it is.
Competitive, transparent pricing for buyers and sellers.
Transparency is the key to trust, and APMEX is a leader in being straightforward and upfront. On our website you'll see…
Sell Prices

The prices we list on our website are the prices you pay, plus a modest shipping fee. No fees are hidden and there's no commission.

Buy Prices

APMEX posts buy prices for many products online and in real time. If you don't see the buy price, just give us a call 800.375.9006.

Spot Pricing

Updated every 60 seconds from major exchange feeds.

Volume Discounts

We provide lower per-item pricing on larger quantities. You can see our pricing tiers on applicable item pages.
We work hard to make Precious Metals investing easier for you.
We work tirelessly to ensure you have the best experience with APMEX. Here are some of the accommodating services we provide to enhance your Precious Metals experience.
24/7 Shopping

Get up-to-the-minute pricing and place your order any time, day or night, any day of the week.

Immediate Processing

Place an order, even at 2 a.m. on Christmas Eve, and your price is locked in and processing starts immediately. Plus, with QuickShipTM, orders paid by Credit Card or Bank Wire will ship within one business day of your payment's clearing — guaranteed! Restrictions apply.

Unparalleled Customer Service

Account managers are available Mondays through Thursdays from 8 a.m. to 8 p.m. (ET) and Fridays from 8 a.m. to 6 p.m. (ET). Call 800.375.9006 or click the "Live Chat" button on our website.

Delivery To Your Doorstep

Products are insured and shipped right to your door in secure, unmarked packages.

Secure Storage

For a modest fee, Citadel Global Depository Services, Inc., a wholly owned APMEX subsidiary, will store your products in an insured, secure vault.
Setting the standard for customer service and support.
At APMEX, we are committed to your long-term success, providing personal support and convenient features to help you track your current holdings and plan future purchases.
Support By Phone Or Live Chat

Reliable help is available Mondays through Thursdays from 8 a.m. to 8 p.m. (ET) and Fridays from 8 a.m. to 6 p.m. (ET). Call 800.375.9006 or click the "Live Chat" button on our website.

Dedicated Account Managers

Ask any of our customer service representatives a question and you'll get a straightforward answer. Our motto is, "No hype, just help".

Market updates

We issue Gold and Silver market reports three times every trading day and offer fresh perspectives on the week's activity with a Weekly Market Report.

Free market alerts

We help you buy and sell when the price is right for you. Just tell us your Gold, Silver, Platinum or Palladium target price and you'll receive your choice of an email, text or both when spot prices hit your target.

Free product alerts

If the product you want is out of stock, just click the "AlertMe!SM" button and you'll receive your choice of an email, text or both as soon as your product is back in stock.

Wish List

Found something you want to buy, but are still thinking about it? Use our new Wish List feature to help identify and organize your future purchases.

Benefits for Frequent Purchasers

APMEX Club rewards our loyal customers with benefits such as free shipping and exclusive offers. Learn more about APMEX Club Membership and Benefits.
A commitment to customers and the ratings to prove it.
At APMEX, we work very hard to earn the trust of our customers. And that hard work is being noticed.
98% Customer Satisfaction Rating

And 96% of our customers say they will refer friends and family to purchase product(s) from APMEX.

Over 47,000 Facebook Likes

With active chats going on day and night.

Customer Reviews

Hundreds of customers post testimonials on our site, providing unbiased opinions to help you decide what products are right for you.

Better Business Bureau Rating of A+

We're proud of the way we do business, and our customers are happy to do business with us.

Satisfaction Guarantee

APMEX guarantees your satisfaction with every product we offer. We provide all our customers with a refund, return and/or exchange policy on everything we sell including all bullion and certified coins. If for any reason you have a problem, please feel free to call our offices. We will always do our best to accommodate you.
GET STARTED NOW
Check out Buy and Sell prices for the Top 40 Best Sellers on APMEX right now.
If you have any questions or need help, call one of our knowledgeable representatives at 800.375.9006 or click the "Live Chat" button.
Prices are in USD
Precious Metal Prices
4/24/2014 2:41:29 PM EST
Metal
Bid
Ask
Change
Gold
$1,291.30
$1,293.30

$6.70

Silver
$19.64
$19.74

$0.24

Platinum
$1,403.50
$1,413.50

$9.60

Palladium
$797.00
$802.00

$15.00
4/24/2014 2:41:29 PM EST
Click here for Historical Charts*All Charts are in USD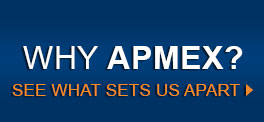 ---
Sell To Us

Selling your bullion or collectible coins is very easy and safe with APMEX! We are one of the largest gold & silver dealers in the country. Read More
---

---
APMEX Reviews
Just a short note, I've been dealing with you for several years your products are excellent customer service top shelf, packaging delivery top notch, and a easy fun website to look at.

Kevin | January, 2014 View All
---
As seen on...