Barber Dimes (1892-1916)
After a long run of 55 years (1837 to 1891), the Director of the U.S. Mint, Edward O. Leech, was authorized by Congress to approve new coinage designs for the Dime, Quarter and Half Dollar. A competition was ordered, and a cash prize would be given to the winner. In this contest, only the winner would receive a prize. As a result, many sculptors and engravers decided that it wasn't worth the effort to spend weeks, if not months, creating a design only to not have it picked and receive nothing for it.
More than 300 entries were submitted, and only two were deemed worthy by the judging committee. In the end, Leech disregarded the committee. As a result, the Chief Engraver of the U.S. Mint, Charles E. Barber, created some new designs. Barber originally felt that the U.S. coin designs needed some European classical influence, so he created patterns that closely resembled some existing French coinage.
Dime Values
The values of Barbers vary significantly based on several factors, including the year of mintage, mintmark and overall condition. For example, an 1892 Dime in Good condition is likely to be valued under $5, while an 1895-O Barber Dime in Extremely Fine condition may command $1,600 or more. If you have a Barber that seems to be in good condition and bears a coveted mintage year, you might consider having it professionally graded by a service such as PCGS or NGC.
Having your coin graded by a professional numismatist gives you a specific answer to the question of coin's potential value on the open market. The grading process is exacting and accounts for the tiniest imperfections that would escape an amateur's eyes. Additionally, when you have your Barber Dime graded, you gain professional assurance as to the authenticity of your coin.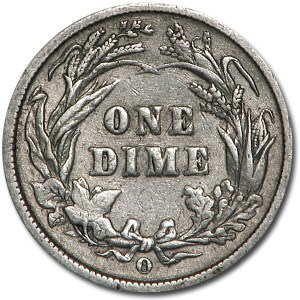 Barber Design
The European-inspired designs were not approved, so Barber went back to the drawing board. He sketched designs that contained numerous elements of existing U.S. coinage. Many say that his Miss Liberty looked remarkably like the Morgan Silver Dollar Miss Liberty. While his designs were rather unremarkable, they were approved by President Benjamin Harrison in November of 1891. The obverse of the Dime slightly differed from that of the Quarter and Half Dollar, which were identical, except for their size. Barber's design for the Dime had Miss Liberty facing right, wearing a Phrygian cap with "LIBERTY" on the headband. Accompanied by an olive wreath and the date below her. She was encircled by "UNITED STATES OF AMERICA." The reverse was simple, with "ONE DIME" centered inside of a wreath.
Value May Lie in the Mintmark
Barber's initial was placed on Miss Liberty's neck and the mintmark, if any, was to be placed beneath the wreath on the reverse of the coin. Minting began on January 2, 1892. All three denominations were struck during the first day of minting to see how the design would fare in each size.


In 1892, a total of more than 17 million coins were struck at the Philadelphia, New Orleans and San Francisco – more than 12 million produced at Philadelphia alone. In 1893, a total of 7.5 million coins were struck. In addition to the 1893, the 1893-O and the 1893-S coins, some Philadelphia coins were struck with an 1893/2 overdate. 1894 was a monumental year for Barber coinage. Over 2 million coins were struck in total, with 1.3 million struck at the Philadelphia Mint, and 770 thousand coins struck at the New Orleans mint. The San Francisco Mint intended to strike coinage as well, but they didn't.


There are no definitive records that indisputably prove why only 24 proof coins were struck. One theory states that San Francisco Mint Supervisor John Daggett had 24 dimes struck for a group of his banker friends, and for his daughter Hallie. He allegedly gave each person three dimes as souvenirs, expecting to strike thousands later in the year. Hallie supposedly spent one of the dimes on an ice cream.
Rare Find
Of the 24 coins, only nine are currently known. One of the nine coins was retrieved from circulation, which may have been the "ice cream dime." Five coins were theoretically supposed to be saved and then melted for examination. If 24 coins were struck, and assuming five were assayed, that would still leave 19 coins, of which only nine are known to exist. The question remains, where are the other 10 coins? Are they undiscovered in circulation still? No one knows for sure. Today, 1894-S Barber Dimes have brought several hundred thousand to 2 million dollars each, so any of the 10 unknown Barber Dimes would be an incredibly rare find.
Key Dates
The Barber Dimes have multiple editions that are key dates within the series. These are one of the most historically significant dimes in the world. Key dates in the series include:
1894-S Barber Dime
1892-S Barber Dime
1895-O Barber Dime
1901-S Barber Dime
1903-S Barber Dime
These key dates can be difficult to obtain, but they are an interesting and valuable find. Each coin tells a story that is historically unique. Outside of these key date Barber Dimes, there are several editions that have tremendous value you can own at competitive prices.