IRA-Approved Gold Maple Leafs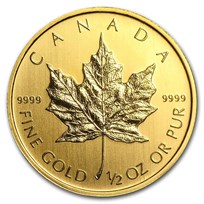 Gold Canadian Maple Leafs are considered one of the most iconic and beautiful Gold coins in the world. The Maple Leaf's simple, classic design is recognize....
Learn More
To include these items in your Precious Metals IRA, you must first contact our IRA Department at (800) 418-0235. For more information, please visit our Precious Metals IRA page here.
IRA-Approved Gold Maple Leafs
For products to qualify for a Precious Metals IRA, they must meet minimum fineness requirements as set by the IRS. Gold must be at least .995 fine. APMEX carries a wide selection of IRA-eligible Gold Maple Leafs.
Our IRA specialists are available to guide you through our selection of Gold IRA-eligible Maple Leafs.
APMEX recommends discussing the details of your personal investment strategy with your IRA Custodian or financial adviser.