American Gold Eagle Coins (Burnished)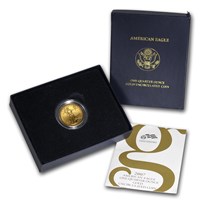 This 2007-W 1/4 oz Burnished Gold American Eagle has a low mintage of only 12,766 coins. The light matte finish on these coins is outstanding!
Learn More
Burnished American Gold Eagles
A burnished Gold coin provides a matted finish, giving off more details and color of the coin. Burnished Gold coins have a finish that has a frostier look and displays more of the coin's character in certain lighting. It is a lasting finish that is unique to American Gold Eagles. The effect is made possible by polishing the planchets before being struck.