U.S. Classic Gold Commemorative Coins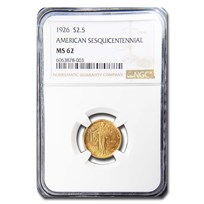 The 150th anniversary of the signing of the Declaration of Independence was the occasion for this $2.50 Gold coin.
Learn More
Classic U.S. Gold Commemorative Coins
Minted to commemorate important events and noteworthy people in American history, commemorative coins were issued between 1892, for the World's Columbian Exposition, and 1954, for Booker T. Washington and George Washington Carver. Each of these coins carries a multifaceted historical component. These coins not only depict a piece of American history, but they are a piece of history themselves. Some of the nation's greatest sculptors – Charles Barber, George Morgan, James Earle Fraser – all designed classic U.S. commemorative coins. Many collectors consider these coins as some of the most beautiful designs our nation has ever issued!