U.S. Gold Anniversary Commemorative Coins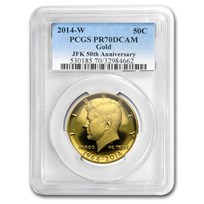 John F. Kennedy's life and legacy are commemorated by the U.S. Mint with this 50 year anniversary issue of a 3/4 oz Gold coin.
Learn More
U.S. Mint Gold Anniversary Commemoratives
The United States Mint has produced many wildly popular products over its long history. In 2016, the mint released special Gold commemorative issues to celebrate the 100th anniversary of three of their most famous designs: 1916 Walking Liberty Half Dollar, 1916 Standing Liberty Quarter and 1916 Mercury Dime. Each of these Gold commems comes in .9999 fine Gold, showcasing the beloved designs in even higher quality detail. In 2014, the mint also released a special .9999 fine Gold version of the 1964 Kennedy Half Dollar. The issue was extra special, as it represents the first U.S. Mint 3/4 oz Gold coin.