Canadian .99999 Gold Coins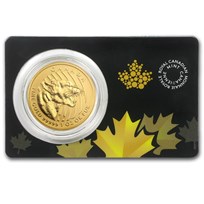 The growling cougar is the second release in the Royal Canadian Mint's Call of the Wild series. These beautiful .99999 fine Gold coins are highly collectib...
Learn More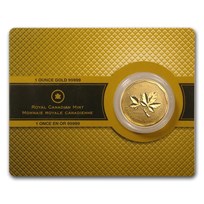 This special Gold coin has an unusual multi leaf design on the reverse and a reeded edge. A low mintage of only 27,476 coins adds to its value, as does the...
Learn More
Royal Canadian Mint .99999 Fine Gold Bullion Series
While most Gold bullion coins are made of .9999 fine Gold, the Royal Canadian Mint has produced several commemorative coins of .99999 fine Gold. These are the purest Gold coins ever minted. Among these, you will find Gold Maple Leafs, Gold Canadian Mountie Coins, and even the brand new Howling Wolf Gold Coin. The Royal Canadian Mint is known around the world for its beautiful designs and unique minting techniques. Their appeal grows even more with these very high purity Gold coins, adding yet another touch of elegance to the RCM name.
Buy .99999 Fine Gold Coins Online from APMEX
If you need assistance in figuring out where to buy Canadian .99999 Gold coins, or if you should have any issue placing an order for Gold bullion on APMEX.com, we are eager to assist you. Our team of highly trained
customer service
associates can answer any questions on how to buy Gold, and can be reached by email or telephone, please call (800) 375-9006 or email service@APMEX.com. You can also sell Gold to APMEX by calling our Purchasing team at (800) 514-6318 to speak to one of our representatives or learn more about
how to sell Gold to APMEX
.
APMEX Customer Reviews
For 20 years, APMEX has provided customers with an easy shopping experience they can trust. We pride ourselves on transparency and consider every customer review to be valuable feedback. Please take a moment to
read our reviews
from valued customers on Canadian .99999 Gold coins and more. We welcome and encourage feedback – each review allows us to improve your Precious Metals buying experience.