1/4 oz Mexican Gold Libertad Coins (BU & Proof)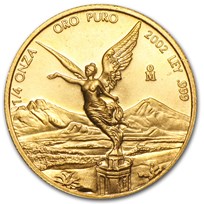 These stunning Gold Mexican Libertads stand out in any collection and due to their limited mintage, they are rarely seen in North America. Gold Libertads f...
Learn More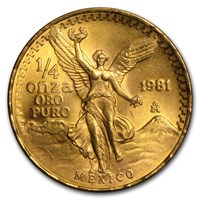 Gold Mexican Libertads are absolutely stunning coins that stand out in any collection. They have limited mintages and are rarely seen in America!
Learn More
1/4 oz Gold Mexican Libertads
One of the most beautiful coins in the world, the Mexican Gold Libertad is .999 fine (except 1981-1988 - .900 fine). The obverse features the Mexican National Seal with the official name for Mexico in Spanish: "Estados Unidos Mexicanos." The reverse depicts two key symbols of the Mexican people: the Winged Victory statue in the forefront and the Mexican volcanoes Popocatépetl and Iztaccíhuatl in the background. The Angel of Independence statue is the main historic monument for the Mexican people and is considered the symbol of Mexico City. The Mexican volcanoes memorialize the legend of the two lovers for whom they were named.