Australian Gold Lunar Coins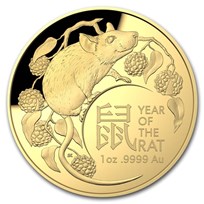 The first Domed Lunar coin in a 1 ounce Gold finish celebrates the first animal in the Chinese lunar calendar, the clever Rat. There is a limited mintage o...
Learn More
Royal Australian Mint Gold Lunars
These Gold lunar coins from the Royal Australian Mint celebrate the animals of the Chinese Zodiac Calendar. This lunar calendar, which runs in a 12-year cycle, consists of 12 different animals each representing a year in the cycle. Animals of the Chinese Zodiac include: the Rat, Ox, Tiger, Rabbit, Dragon, Snake, Horse, Sheep, Monkey, Rooster, Dog and Pig. The character of each animal is believed to influence the events and political and economic conditions of its year, as well as the personality of individuals born during its cycle.