Chinese 1 oz and 30 gram Gold Panda Coins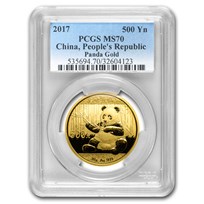 Each release of the Chinese Panda Series focuses on the iconic panda, loved around the world and beautifully depicted here in .999 fine Gold. Starting in 2....
Learn More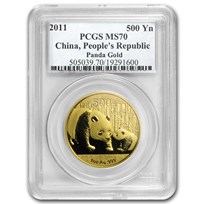 Chinese Gold Panda coins are treasured around the world for their yearly changing designs and .999 fine Gold content. This Gold Chinese Panda coin is grade....
Learn More

Gold Chinese Pandas are one of the world's only bullion coins to change designs each year and the 2011 1 oz Gold Panda is no different. Each of these coins....
Learn More
Volume Discount Pricing
Quantity
Check/Wire
CC/PayPal
Any Qty
$2,712.90
$2,825.94
Gold Pandas Collectibility
The Gold Pandas enjoy enormous popularity across the globe because of their unique designs and their ability to appreciate. In 2016, the People's Bank of China decided to switch to the metric system, so the coins are labeled as 30 gram Gold coins instead of 1 oz Gold bullion. This does not change their value or collectibility, but since this was the first year of the change, the 2016 Gold Pandas could prove more valuable than other iterations.
China 1 oz Gold Pandas
Gold
Pandas
enjoy a fantastic reputation in numismatics circles. However, the 1 oz Gold coins carry a face value of 500 yuan instead of just 10 yuan, and they are made with .999 fine Gold. Investors can buy these coins as an investment tool, while collectors can scoop up these coins as they become available, tracing the lineage all the way to the first minting in 1982. In 2016, the mint changed the weight system from ounces to grams, meaning the older Chinese coins will likely prove more valuable as the weight system is no longer used for Gold Pandas.
While not an exact conversion, the new gram sizes provide the closest metric equivalent to the similarly sized ounce counterparts:
Gold Pandas Description
Each
Gold Panda Chinese coin
features an iconic Chinese symbol — the panda — on the reverse and an illustration of Beijing's Hall of Prayer for Abundant Harvests in the Temple of Heaven on the obverse. The words "People's Republic of China" appear in Chinese above the Hall of Prayer, with the year written numerically below. The weight and fineness are written on the panda side (with the exception of the 2015 Gold Panda).