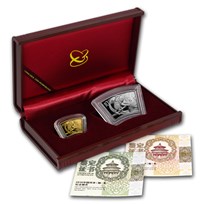 This 2016 Fan Shaped Coin Set celebrates the Year of the Monkey with elegant designs and .999 fine Gold and Silver metal content.
Learn More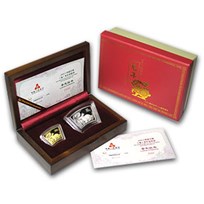 This 2011 Year of the Rabbit 2-coin set from China contains a 1 oz. Silver Fan and a 1/2 oz Gold Fan. Coins come in a nice wooden presentation box. Each...
Chinese Gold Lunar Coins
Beginning in 1979, China began to mint commemorative modern coins. By 1981, China was minting coins to commemorate the Chinese New Year. These coins feature the 12 animals that play important roles in China's ancient lunar calendar. According to the lunar calendar, each of these 12 animals has a profound influence over those born under its year of "rule." These Chinese Gold coins feature depictions of lunar animals based on historical Chinese drawings or paintings.