British 1/4 oz Gold Britannia Coins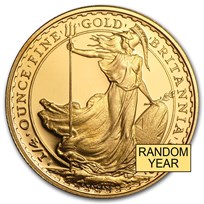 The beauty and grandeur of the Gold Britannia coins make these coins some of the most desirable coins on the world's Gold coin market.
Learn More
Volume Discount Pricing
Quantity
Check/Wire
CC/PayPal
Any Qty
$501.19
$522.07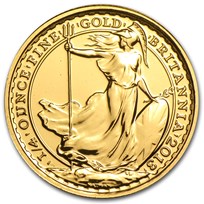 This is the only year of the .9999 fine issues that the fineness is not listed on the coin making it a one year only type! Perfect for investors, this Gold...
Learn More
Volume Discount Pricing
Quantity
Check/Wire
CC/PayPal
Any Qty
$590.20
$614.79

Beautifully designed, this Proof Britannia coin is certified a Proof-69 by PCGS with a First Strike designation.
Learn More
Volume Discount Pricing
Quantity
Check/Wire
CC/PayPal
Any Qty
$1,395.00
$1,453.12
1/4 oz Gold Britannias
Introduced by the Royal Mint in 1987, the Gold Britannia coins are British Gold bullion coins that have begun to play a major role on the coin market. Gold Britannias are issued in 1, 1/2, 1/4, and 1/10 oz sizes with face values in British pounds (£) of £100, £50, £25, and £10, respectively. Gold Britannias are .917 Gold (22-karat Gold) and are legal tender in Great Britain. Until 1990, the Gold Britannia was alloyed with copper. However, beginning in 1990, the Gold Britannia has been alloyed with Silver, which gives the Gold Britannias issued since 1990 a lighter yellow color than the earlier Britannias. In 2013, the fineness increased to .9999 fine.

The Gold Britannia's attractive design was created to appeal to both collectors and investors alike. The obverse of the Gold Britannia bears a depiction of Queen Elizabeth II. The Gold Britannias issued from 1987 to 1997 feature the "Third Portrait" of Queen Elizabeth II, while the "Fourth Portrait," a more mature likeness of Queen Elizabeth II, graces the Gold Britannias issued from 1998 to 2015. The newest "Fifth Portrait" appeared on the Gold Britannia starting in 2016.

The reverse pays tribute to the Britannia image that first appeared on coins produced under the rule of the Roman Emperor Hadrian. An ancient term for Great Britain, Britannia began to personify the island of Great Britain in the first-century Roman world. Britannia first appeared on British coins in 1672, when she graced the farthing. The Gold Britannia is the first Gold coin since the days of the Romans to feature the Britannia image. The Gold Britannia coins feature different variations of the Britannia design, including a Standing Britannia, a Seated Britannia, and others. Illustrating the majestic Britannia, the Gold Britannias are some of the most beautiful Gold coins in the world.