British Gold £1/Sovereign Coins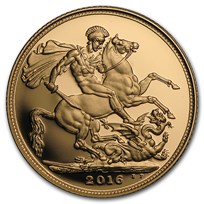 The timeless design of the Gold Sovereign, used on sovereigns since 1817, is regarded as a masterpiece of numismatic art. The Proof condition of this coin ....
Learn More
The Royal Mint Gold Sovereign Coins
Since 650, coins have been minted in Great Britain, at that time in several mints across the country. Around 1540, the remaining mints closed and
the Royal Mint
was the only mint normally in operation. In 1663, striking coins by hand was finally abandoned with the introduction of screw presses and horse-drawn rolling mills!