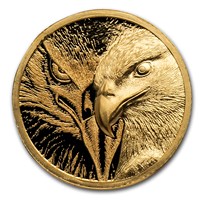 Introducing the Majestic Eagle, featuring brand-new, never before seen enhanced Smartminting© technology on a Gold coin. This coin has a high relief on bot...
Learn More
CIT Gold Coins
Coin Invest Trust, located in the small central European country of Liechtenstein, produces exquisite Gold coins for countries around the world, including Mongolia, Tanzania and the Cook Islands. Each Gold coin is masterfully crafted to the mint's quality standards and features beautiful designs representing a variety of subjects.

APMEX carries a range of CIT Gold coins with various themes, including historic events, holidays and the zodiac, and many produced with innovative technology, such as scented coins or those that include a nano chip. These different options make a CIT collection interesting for any Gold lover.