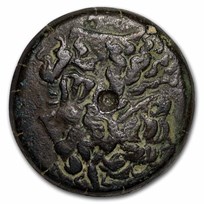 This attractive coin was issued to mark the Accession of Ptolemy II as King of Egypt. These attractive issues often combine historical Egyptian and Greek t...
Learn More
Volume Discount Pricing
Quantity
Check/Wire
CC/PayPal
Any Qty
$399.99
$416.66
Ancient Greek Gold Coins
Ancient Greece produced some of antiquities finest examples of artistic engraving skill, and the beauty of the designs was said to have inspired Theodore Roosevelt to revitalize the beauty of U.S. coin design. The Greek Kingdoms also heralded the very birth of coinage in the Western world, with Electrum and Lydian coins of Croesus.

Most Greek Ancient Coins that have been found generally span a period of about 900 years, from about 550 B.C. to A.D. 300. The last three centuries, however, were secondary or local ancient coins of the eastern Roman Empire. The first of these ancient rare coins to be struck in European Greece were thought to have been created in Aegina around 550 B.C. From there, the coins spread to Athens and Corinth.

Ancient Greek coinage was not limited to present-day Greece. Some of the most artful coins were minted by Greek colonies in Sicily and southern Italy before Rome was little more than a city-state. Other Ancient Greek coins were struck by Alexander the Great and his successors from mints ranging from India to as far as Egypt. Ancient Greek rare coins give the ancient coin collector the opportunity of possessing some truly beautiful numismatic creations in their rare coin collection.