Medieval Coins (Gold, Silver & Bronze)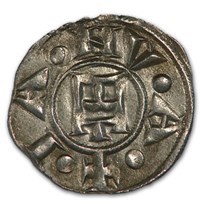 GENOA Italian State Silver Denaro
Obverse: Genoese Gateway
Reverse: Cross Extra Fine (17mm - 0.8g)....
Volume Discount Pricing
Quantity
Check/Wire
CC/PayPal
Any Qty
$74.99
$78.11
Medieval Gold, Silver and Bronze Coins
The Western Roman Empire fell in 476 starting the Dark Ages which would see the breakup of the territories of the Roman Empire into a number of petty Kingdoms. These Germanic successor states would mint a number of Gold coins in the style of the Roman counterparts and would circulate widely into the early Middle Ages playing an important commercial and economic role in the early period. This period would see the rise of many great Kingdoms including the French under Charlemagne and the early English dynasties of the Anglo Saxons.