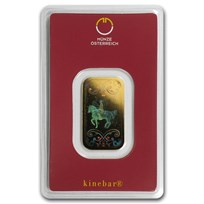 The Austrian Mint's Kinegram technology provides guarantee of the authenticity of your .9999 fine Gold bar. Each bar comes in tamper-evident packaging and ....
Learn More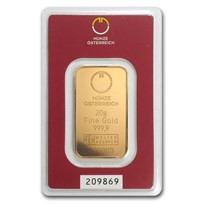 Each of these Austrian Mint Gold Bars contains 20 grams of .9999 fine Gold and comes in sealed tamper-evident packaging, which ensures the quality of your ....
Learn More

This is a hard to find 10 ounce Gold bar from Argor-Heraeus that was produced for the Münze Österreich (Austrian Mint).
Learn More
Austrian Mint Gold Bars
Backed by the well known
Austrian Mint
, these Gold bars are guaranteed .9999 fine. Each fine
Gold bar
is stamped with its exact weight and Gold purity and bears the Austrian Mint logo. Additionally, each bar is marked with a unique serial number for further guarantee. The Austrian Mint is known for creating beautiful Gold bullion and collectible coins, and their Gold bars contain all you've come to expect from the mint. These Gold bars feature a variety of designs, from very simple to those featuring the Austrian Mint's unique KineGram technology. Available Gold bars range in size from 1 gram Gold up to
1 kilo Gold
.