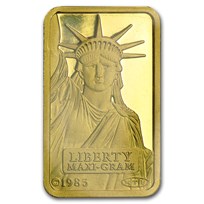 The Statue of Liberty, an American symbol of pride and freedom, is beautifully featured on these .9999 fine Gold bars. Gram Gold Statue of Liberty bars are....
Learn More
Credit Suisse Gold Bars
Backed by the world-renowned Bank of Switzerland, these conveniently sized bars are guaranteed to be .9999 fine Gold. The Suisse Bank of Switzerland is one of the most trusted institutions in the world. Each Credit Suisse bar is stamped with its exact weight and purity, bearing the Credit Suisse logo, an internationally recognized symbol of quality and sound provenance. The bars are produced with a variety of designs, available in a wide range of sizes, from 1 gram up to 10 oz. No matter which size or design you choose, you are guaranteed to get a product backed by Credit Suisse, one of the top financial companies in the world.