Engelhard Gold Bars & Rounds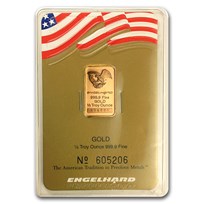 Engelhard bars are rarely seen in assay cards, making them highly sought after by Gold enthusiasts. Engelhard bars are no longer being produced, which adds...
Learn More
Engelhard Gold Bars and Rounds
Engelhard is universally accepted around the world and has a reputation that is second to none for quality and trustworthiness. Engelhard mints Gold products in sizes ranging from 1 gram up to 1 kilo, offering a Gold bar or Gold round for nearly any budget. They feature a variety of designs from the classic, simple Engelhard logo to products honoring both American and Canadian history.