All New Zealand Mint Silver Products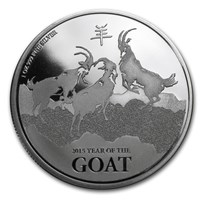 To celebrate 2015 as the Year of the Goat, the New Zealand Mint released this interesting Silver coin. Each coin features an artistic image of three goats ...
Learn More
This coin is the first in the iconic Silver Taku series that began in 2010 from the New Zealand Mint. The mintages have increased greatly with the rise in ...
Learn More
The New Zealand Mint Silver
The New Zealand Mint has been operating out of Auckland since 1967, minting legal tender, bullion, medallions and a range of commemorative coins. At present, it is New Zealand's only mint that works with Precious Metals. It also produces coins for nearby island nations including Fiji, Niue and the Cook Islands. The New Zealand Mint holds itself to the highest principles of value and quality. Its bullion and coins are sought by investors and collectors around the world.