American Silver Eagle Coins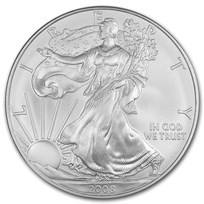 The American Silver Eagle is the most popular bullion coin in the United States. This stunning Silver coin is a valued investment for its 1 oz metal conten....
Learn More
Volume Discount Pricing
Quantity
Check/Wire
CC/PayPal
1 - 19
$44.44
$46.29
20 - 99
$43.44
$45.25
100 +
$42.44
$44.21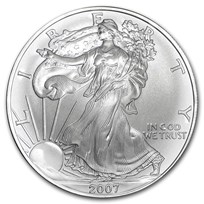 This stunning Silver coin is a valued investment for its 1 oz metal content, beautiful patriotic design and government guarantee. The American Silver Eagle....
Learn More
Volume Discount Pricing
Quantity
Check/Wire
CC/PayPal
Any Qty
$45.45
$47.34
Buy American Silver Eagles Online
First released in 1986, the American Silver Eagle is the United States' official Silver bullion coin. The Silver Eagle only comes in one size, which is 1 oz of .999 fine Silver. It has a face value of $1 and is backed by the U.S. government. The Silver Eagle has been produced at three mints: the Philadelphia Mint, the San Francisco Mint and the West Point Mint. The U.S. Mint does not add mint marks to bullion Silver Eagles. Mint of origin is only identifiable by the sealed monster boxes the coins ship in, either via distinguishing straps or the serial number assigned to each box. Silver Eagles are also IRA-eligible, as they meet the fineness requirements as defined by the
IRS
. In addition to the bullion version, the United States Mint has produced Proof versions and uncirculated versions for collectors.
American Silver Eagle Designs
The original Silver Eagle design features classic artwork by Adolph A. Weinman and John Mercanti. The obverse depicts the Walking Liberty design, originally used on the Walking Liberty Half Dollar from 1916 to 1947. The original reverse portrays a heraldic eagle behind a shield; the eagle grasps an olive branch in its right talon and arrows in its left talon, echoing the Great Seal of the United States; above the eagle are thirteen five-pointed stars representing the thirteen colonies.
In 2020, the United States Mint
unveiled the new reverse designs
for the 2021 American Eagle Silver coins. 2021 marks the 35th Anniversary of the American Eagle Coin program, and the new designs will begin appearing on these coins in mid-year 2021. AIP Designer Emily Damstra created the new Silver design, which was sculpted by Mint Medallic Artist Michael Gaudioso. The new design depicts a single eagle coming in for a landing, carrying an oak branch as if to add it to a nest.
MintDirect® Silver Eagles with PCGS FirstStrike®
APMEX has partnered with PCGS, one of the most trusted names in numismatics, to further enhance the MintDirect® Premier program. This
partnership with PCGS
allows MintDirect® Premier with PCGS FirstStrike® Silver Eagles in their sealed packaging to remain eligible for the FirstStrike® designation if submitted to PCGS for grading long after new FirstStrike®-eligible coins are typically off the market.
The Assurance of MintDirect® Silver Eagles
The
MintDirect® process
guarantees that the coins you receive are untouched since leaving the U.S. Mint. Silver Eagles have been in high demand since they were first introduced in 1986. MintDirect® Eagles are available in singles, tubes, Mini Monster Boxes and Monster Boxes.
1 oz Silver Eagle Mintage Figures
American Silver Eagle bullion coins are struck according to public demand, meaning this demand determines the mintages for each year. Some years when demand and corresponding mintages were lower, collectible value can exist for the coins beyond their Precious Metal value. The following are mintages for 1 oz Silver:
Buy American Silver Eagle Coins Online from APMEX
If you need assistance in figuring out where to buy American Silver Eagles, or if you should have any issue placing an order for U.S. Silver bullion on APMEX.com, we are eager to assist you. Our team of highly trained
customer service
associates can answer any questions on how to buy Silver, and can be reached by email or telephone, please call (800) 375-9006 or email service@APMEX.com. You can also sell Silver to APMEX by calling our Purchasing team at (800) 514-6318 to speak to one of our representatives or learn more about how to
sell Silver to APMEX.


APMEX Customer Reviews
For 20 years, APMEX has provided customers with an easy shopping experience they can trust. We pride ourselves on transparency and consider every customer review to be valuable feedback. Please take a moment to
read our reviews
from valued customers on American Silver Eagle coins and more. We welcome and encourage feedback – each review allows us to improve your Precious Metals buying experience.