APMEX Fractional Silver Rounds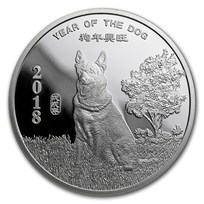 In the Chinese Lunar calendar, people born in the Year of the Dog are independent, valiant, sincere, loyal and decisive. These 2018 APMEX Lunar Dog Silver ...
Learn More
Fractional APMEX Silver Rounds
With these fractional APMEX-branded Silver rounds, you can be sure you will receive only .999-fine Silver! All rounds are hallmark-stamped, indicating the exact purity of the Silver content.