Scottsdale Mint Silver Bars
× 20 Oz × 100 Grams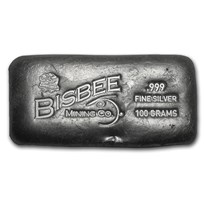 This unique Silver bullion product has been carefully cast and stamped like the old days and gets its name from the old mining town of Bisbee. Each 100 gra...
Learn More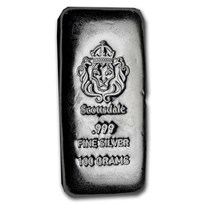 100 gram Scottsdale Mint Silver bars are an ideal way to add to your Silver holdings, and these secondary market Silver bars can often be purchased at a lo...
Learn More

The Old American West has much history and folklore that has carried over generations, and these Silver bars continue this interest. Each bar has slightly ...
Learn More
Scottsdale Mint Silver Bars
APMEX is proud to offer products from Scottsdale Mint, manufacturer of fine Silver bullion products in a wide range of styles. Scottsdale is known for producing some of the most notable and unique product designs in the industry, including Tombstone Silver Nuggets and old-fashioned Bisbee Silver Bars.

Silver bullion from the Scottsdale Mint is unique and unlike any series or commemorative bullion set that you are accustomed to seeing. All of these unique Silver bars give buyers a fun and valuable bullion to collect. Scottsdale Mint Silver is sought after by collectors because each selection offers something different in terms of value, weight and content.