1/4 kilo Silver Bars (8.0385 oz)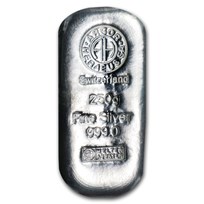 These prestigious 1/4 kilo bars from Argor-Heraeus in Switzerland contain 8.0385 oz of Pure Silver.
Obverse reads "Argor-Heraeus SA" around the "AH" logo"....
1/4 kilo Silver Bars
APMEX offers a superb selection of 1/4 kilo Silver Bars. Buying Silver bars online has never been easier! APMEX guarantees you will receive only .999 fine Silver bars. We will ship from one of our diverse mix of high quality manufacturers such as Sunshine Mining, U.S. Assay, A-Mark, Silvertowne, Engelhard, APMEX, Johnson Matthey, and others. Many are Hallmark stamped with their exact purity of contained Silver from their issuer. Many times we ship various designs with each shipment.