Bulk Peace Silver Dollars (1921-1935)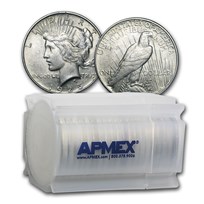 Peace Dollars were issued to commemorate peace after WWI. The Peace Dollar was designed by Anthony de Francisci, who won a competition searching for design...
Learn More
Peace Silver Dollar Rolls and Bags
Peace Silver Dollars were minted between 1921 and 1935 and were designed by Anthony de Francisci, who was an artist who emigrated to the United States from Italy. The coins were minted to honor the end of World War I. These Silver Dollar bags of Peace Silver Dollars are an inexpensive way to purchase Silver, as each 80+ year old Silver dollar contains .7734 oz of fine Silver.