Royal Australian Mint Silver Dolphin Coins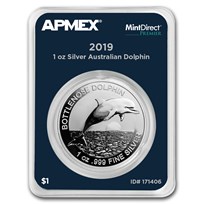 The first year of issue of this Australian bullion coin featuring the dolphin is now available with exclusive MintDirect® Premier packaging. All coins in M...
Learn More
Royal Australian Mint Silver Dolphins
This is the first year of issue for this series which will join several other animal-themed coins series produced by the Royal Australian Mint. This particular series celebrates Australia natives that inhabits the country.