Austrian Mint Commemorative Coins (All Other)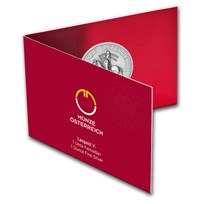 This brilliant new Anniversary three-coin series from the Austrian Mint beautifully illustrates the founding of the Vienna Mint and helps recreate the fasc...
Learn More
Other Austrian Mint Commemorative Coins

The Austrian Mint is a world leader in bullion, collectible and commemorative coins. Here you will find a wide variety of commemorative coins from Austria covering a plethora of subjects from throughout history. APMEX offers an excellent selection of Gold, Silver and non-Precious Metal coins, such as copper and cupro-nickel, from the Austrian Mint.

Add something unique to your collection today with one of these commemorative coins from Austria!