Mint of Poland Nature Silver Coins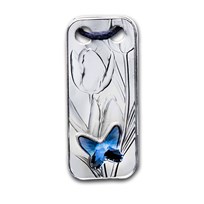 Brighten up the day of someone you love with this gorgeous Silver Butterfly Pendant. This beautiful pendant is adorned with Swarovski elements.
Learn More
Nature Coins
APMEX offers a large selection of Nature coins from the Mint of Poland at competitive Silver pricing. Celebrate the best of nature with these coins featuring animals from across the world. These coins will feature design of animals such as frogs, river dolphins, macaws, whales, turtles, dogs, cats, lions and other endangered animal species.